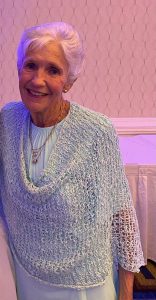 Margaret "Peggy" Lee Ames Ward, 76, beloved wife, mother, and grandmother, died peacefully on December  9 at Martha Jefferson Hospital in Charlottesville, VA. She was born to J. Lewis and Margaret Ames on June  18, 1946, raised in Massapequa, NY, lived in Alexandria, VA, and was currently residing in Corolla, NC. 
After graduating from Massapequa High School, Peggy attended Ohio Wesleyan University in Delaware,  Ohio where she joined the Delta Delta Delta sorority spending one year as Rush Chairwoman. Her other college activities included Little Sisters of Sigma Alpha Epsilon; the Association of Women Students; the  Senior Responsibilities Committee; and she was a Resident Assistant. It was at Ohio Wesleyan where she met the love of her life. 
After college, Peggy married Michael Ward of Alexandria, VA, and settled in that same town. She worked as a teacher at St. Agnes School in Alexandria for several years before becoming a stay-at-home mom to three young children. As her children grew older, Peggy assisted her husband with the family business, MRW Holdings, specializing in the property management side of the business. 
In 2003, Peggy along with her husband moved to the Outer Banks area of North Carolina after 24 years as an Alexandria resident. When Peggy lost her husband of almost 40 years in 2008, she then split time between her family home in Corolla, NC, and Charlottesville, VA, which was the home of her two daughters at that time. 
Throughout her life, she always found time to volunteer, very much the "kind and generous" person described by her friends and family. From coaching cheerleading at St. Mary's Elementary School in  Alexandria during the 70s and 80s, assisting with multiple college reunion plans for Ohio Wesleyan; to sitting on the Homeowners' Board for Windswept Ridge in Corolla at the time of her death, Peggy always found time to give back. Other pursuits included the Homeowners' Board of the Currituck Club,  work with Corolla Chapel, and the Currituck County Extension Program. 
Peggy was preceded in death by her husband Mike (2008) and is survived by her three children, son Chris Ward and daughter-in-law Lisa; daughter Stephanie Scheel; daughter Melissa Gardiner and son-in-law  Francois Martin; her "Spanish daughter" Sandra; her brother John Ames and sister-in-law Elaine; her five treasured grandchildren Colin, Molly, Dylan, Mackenzie, and Maddie, and two "bonus grans", Claire and  Amelia. 
Friends and family are invited to share in the celebration of Peggy's life at The Currituck Club, 620 Currituck Clubhouse Drive, Corolla, NC 27927 at 3:00 pm on Friday, May 12, 2023. The family asks in lieu of flowers that contributions be made to: Corolla Chapel, 1136 Corolla Village Rd., Corolla, NC 27927: or  Corolla Beach Rescue, 520 Old Stoney Rd., Suite J, Corolla, NC, 27927.