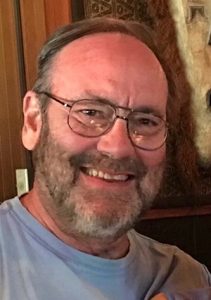 June 16, 1951 – March 24, 2023
MANTEO — Mark "Ferdi" William Ferdinandsen, a loving husband, father, grandfather, son, brother, and friend, passed away peacefully on March 24, 2023, in Manteo, North Carolina. Born on June 16, 1951, in Minneapolis, Minnesota, Mark brought joy, love, laughter, and wisdom to everyone he encountered.
Mark is survived by his wife, Margaret "Rita" Husolo Ferdinandsen; daughters Stephanie Moersfelder (Spencer) and Laura Wheeler (John); step son Dan Keller (Annette); grandchildren DJ Keller, Parker Keller, Sam Moersfelder, and Owen Wheeler; mother Donna Ronnenberg Ferdinandsen; sister Jean Ferdinandsen (Leif Hauge); brother Lee Ferdinandsen (Judy); close friend Don Chapin (Linda); and many additional close friends. He was predeceased by his father, Lloyd Ferdinandsen.
Mark was a talented boatbuilder, a profession he was truly passionate about. His dedication to his craft was evident in the beautiful boats he created. As an active member of the marine community, Mark was known for his generosity, selflessness, and love for his fellow yachtsmen.
In his spare time, Mark enjoyed woodworking, model trains, current events and reading. He was also a great cook, always eager to share his delicious creations with friends and family. Mark's love for sailing took him on many adventures in the Bahamas, creating unforgettable memories with his loved ones.
Mark was an amazing son, always there for his family, and a true humanitarian. His kind and generous nature touched the lives of many, earning him a multitude of true, loving, and loyal friends. Mark's love for his grandchildren was immeasurable, and he cherished every moment spent with them.
Mark William Ferdinandsen will be deeply missed by his family, friends, and all who knew him. His generosity, selflessness, and loving nature will live on in the hearts of those who were fortunate enough to know him.
In keeping with his wishes, there will be no service at this time.
Twiford Funeral Homes, Outer Banks is assisting the family with arrangements. Condolences and memories may be shared at www.TwifordFH.com.