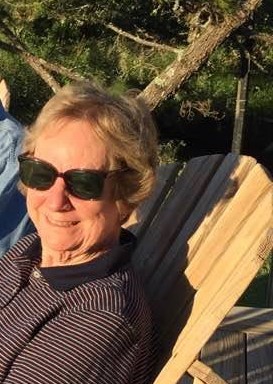 Mary Jane Todd passed away peacefully at home on the morning of July 27 at the age of 92.
She was preceded in death by her husband and soul mate of 62 years, Thomas Edwin Todd, and her beloved daughters, Susan Lee and Ann Marie Todd.   She is survived by her daughter Beth Midgett (husband Ted), her grandson Todd Midgett, and her beloved step-grandsons Thad, Aaron (wife Morgan), Timothy and Thomas ( wife Kristen) Midgett and step-great-grandchildren, Taj, McCoy, and Presley. Mary Jane and her husband Tom were avid fishermen all throughout their lives.  Whether on the Eastern shores of Maryland, Virginia, or Hatteras Island, a fishing rod was never far away.    Mary Jane (Mom) was an incredible cook.  Her "love language" was food; she loved her family and friends dearly.   To be a guest at her table or to receive one of her fantastic desserts was always an amazing gift.  Reading was a lifelong passion, and it was not unusual for her to read 2-3 books a week.   Mom was also a passionate gardener.  She loved her amazing gardens and took much pleasure from the birds and wildlife that enjoyed them. A celebration of life for friends and family will be held on Saturday, November 25, at 1 pm at the family home in Hatteras Village. The final interment ceremony will be held in the spring at the Todd family cemetery in Fort Howard, Maryland.
The famil
y
 would like to thank each and every healthcare professional who 
assisted her this past year.   New friends and wonderful memories were made. 
 Words
 of thanks 
can never, ever be enough.
  We rejoice in knowing that Mom is reunited with the love of her life and her dear daughters.
In lieu of flowers, memorial donations may be made to the
Hatteras Island Cancer Foundation
.