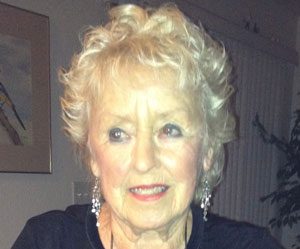 July 14, 1927 – December 25, 2022
KILL DEVIL HILLS — Mary Kendrick Twiddy Manoli, 95, of Kill Devil Hills, NC died Sunday, December 25, 2022, at her home.
Born in Elizabeth City on July 14, 1927, she was the daughter of the late Sadie Fay Perry and William Monroe Twiddy. Mary attended Elizabeth City High School and graduated from Medford High School, Medford, MA.
She became an award-winning watercolor artist and enjoyed painting birds, flowers, and Outer Banks scenery. Mary was extremely active; she was an excellent swimmer and diver, often combed the beaches collecting sea glass and shells, was an avid gardener, enjoyed decorating her home, attended art classes at the Baum Center, and was talented as a seamstress and hairdresser. She enjoyed shopping with her daughter Carrie and could be found dancing the night away with her husband John at Kelly's, Jolly Roger, and the Sea Ranch. A smile that would light up every room she walked in, Mary had an eye for all things sparkly and glittery.
Mary is survived by her husband of 76 years, John Charles Manoli; daughter, Carrie L. Robinson (Andy) of Naples, FL; sons, John C. Manoli, Jr. of Point Harbor, NC and Kenneth M. Manoli of Powells Point, NC; grandchildren, Michael Robinson, Adam Manoli, and Lauren Manoli Silvestro; and great-grandchildren, Luca and Siena Manoli and Nicholas and Lucia Silvestro.
In addition to her parents, she was preceded in death by her son, Michael K. Manoli; sisters, Velda "Bet" Cox and Sadie "Fay" Thoms; and brothers, Marshall, Kenneth, and William "Bill" Twiddy.
The family will receive friends and relatives for a viewing and visitation Wednesday, December 28, 2022, at Twiford Colony Chapel, Manteo from 5:00 until 8:00 pm. A funeral service will be held at 1:00 pm on Thursday, December 29, at the funeral home. On Friday, a graveside committal will be held at 1:00 pm in West Lawn Cemetery, Elizabeth City.
To plant a tree in memory of Mary or send flowers to the family, please visit www.TwifordFH.com/send-flowers.
Twiford Funeral Homes, Outer Banks is assisting the family with arrangements. Condolences and memories may be shared at www.TwifordFH.com.