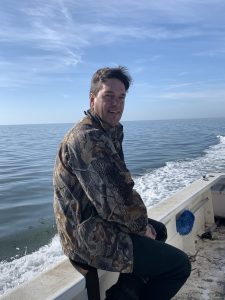 Ralph William Evans ("Bill") was 61 years old when he unexpectedly passed away on July 23, 2023. He left behind his wife, Candy Evans; two grown children, Will Evans and Kristen Talbert; his son-in-law Scott Talbert; two grandchildren, Miller Talbert, and Gwennie Mae Talbert; his mother, Gwendolyn Gray; his father, Jack Evans, and his two half-sisters Jodi Berck and Jami Ewer.  Bill was predeceased by his sister Terri Parsons.
Bill taught as a Technology Education and Project Lead The Way Engineering teacher for 32 years before retiring and completing the process of becoming licensed as a General Contractor and Electrician.  He was very proud of these accomplishments and used his technical expertise and love of people to grow Flowing Current Electric for the past two years.  During his teaching career, Bill was the proud recipient of the Terry Sanford teaching award, as well as Teacher of the Year for Dare County Schools.  Bill was a National Board Certified teacher who loved problem-solving and mathematical challenges. As an educator, he made a positive impact on many students' lives through his leadership in the Technology Student Association, Fellowship of Christian Students and Athletes, wrestling, and baseball.  He always demonstrated a loving and encouraging attitude toward his students, and many of them credit him for helping them succeed in college and in other endeavors.
Bill had a love and thirst for life, which was contagious when anyone was around him.  In his free time, you could find him loving on his grandchildren, playing guitar, fishing, and of course, surfing.  Bill took great pride in his adult children and was thrilled to be able to spend time with them and watch them flourish.  He was married to his high school sweetheart for almost 40 years, and they both tried to live their lives reflecting the love of God in their family and community.
Bill was a strong believer in Christ and was active in the Methodist church community. A scripture verse to remember Bill is 1 Peter 2:11 "Dear friends, I warn you as "temporary residents and foreigners" to keep away from worldly desires that wage war against your very souls." Bill always knew he was a "temporary resident" of this earth, and he knew how to make the most of every moment. He believed in a beautiful heaven, and we know that's where he is now, surfing heaven's waves and enjoying the sunshine. A memorial service will be held at the Buxton United Methodist Church on Saturday, September 9, 2023, at 1:00 p.m.  Following this service, a celebration of his life will take place at the Cape Hatteras Secondary School cafeteria.  In lieu of flowers, the family would like to request that donations be made to the Buxton United Methodist Church.