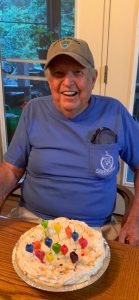 September 3, 1938 – January 8, 2023
KITTY HAWK –Richard J. Rogers, 84, of Kitty Hawk, NC died Sunday, January 8, 2023, at Peak Resources – Outer Banks.
A native of Newport, Ohio, he was born September 3, 1938, to the late Gertrude Dennis Rogers and Albert O. Rogers.
Richard was a graduate of Newport High School. Enlisting in the United States Navy, he served his country honorably for 21 years retiring as a Senior Chief Petty Officer. Richard continued his career as a military contractor for DynCorp International earning his second retirement after 20 years.
An avid gardener, he loved to grow flowers and work in his garden. He enjoyed spending time with his family and was always available to help his friends.
Richard is survived by a daughter, Donna R. Lewis and husband Larry of Kitty Hawk; four grandchildren, Richard Kyle Lewis of Kitty Hawk, Taylor M. Lewis of Virginia Beach, Christopher Lewis of Duck, and Alex Lewis and wife Katherine of Grandy; and one great-grandchild, Kylie R. Lewis. Also, surviving are four siblings, Mary Bennett, Sue Farnsworth, Nancy Hines, and George Rogers all of Newport, Ohio.
In addition to his parents, Richard was preceded in death by his wife, Shirley Thomas Rogers; son, Michael D. Rogers; and brother, John Rogers.
In keeping with his wishes, there will be no service at this time.
To plant a tree in memory of Richard or send flowers to the family, please visit www.TwifordFH.com/send-flowers.
Twiford Funeral Homes, Outer Banks is assisting the family with arrangements. Condolences and memories may be shared at www.TwifordFH.com.