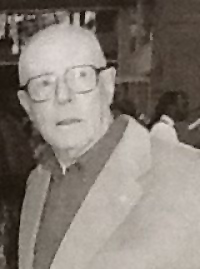 May 26, 1926 – March 23, 2019
SOUTHERN SHORES — Robert Munroe Hannan, 92, of Southern Shores, NC died Saturday, March 23, 2019, due to complications following a fall resulting in a broken hip in July 2018.
He was predeceased by his beloved son, Tom, with whom he is now reunited. Surviving him are his wife of 68-years, Joyce, daughter Joy, son-in-law, Billy, granddaughter Marinna, and her boyfriend Kyle, grandson Theo and his wife Lillie and great-grandson, Liam.
Bob and Joyce moved to the Outer Banks 30 years ago from Little Silver, NJ. They loved the area and enjoyed the ocean and dining out at many of the local restaurants. Bob did volunteer work at Nags Head Woods, Pea Island, the Town of Southern Shores and the Manteo Maritime Museum. He was a member of the HAM Radio Club, call letters KU4KY.
The family would like to thank his neighbors and the community for the outpouring of love, visits, treats, and support for Bab after his fall and consequent lengthy stay in rehab.
Self-described as "too old to buy green bananas", Bob was known for his wit. He loved his family, the ladies in the library, waitresses, and every dog he'd ever met.
In lieu of flowers, his family asks that you take your dog for a walk, give them a pat and a treat for Bob, read a good book, and over tip your waitress.
Rest in peace, Bob/Daddy/G'pa. We love and miss you. XOXO
A celebration of life ceremony is being planned for May 2019.
Twiford Funeral Home, Manteo is assisting the family with arrangements. Condolences and memories can be shared at www.TwifordFH.com.