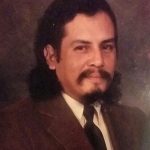 August 20, 1956 – January 21, 2019
BUXTON — Roberto (Bob) Reyes, 62, of Buxton, NC went home to be with the Lord on Monday, January 21, 2019, at his home. He was born August 20, 1956, in Corpus Christi, TX to Angelia Reyes of Hammond, IN and the late Jose Reyes.
Bob served his country honorably in the United States Navy. While stationed in Buxton, he met and married the late Debra O'Neal, and they had three children together.
For many years, he was a cook at Lighthouse Restaurant for Gilda and Eris Waterfield and then for Tommy and Leah Butler at Tides Restaurant.
In addition to his parents, he was preceded in death by a daughter, Dori Reyes; sister, Mary Lou Reyes; and brother, Ronnie Reyes.
Bob is survived by two daughters, Monica Hooper (James) of Avon, NC and Jessica Reyes of Asheville, NC; three granddaughters, Victoria Reyes, Jasmine Quidley, and Deborah Hooper; one great-granddaughter, Ariah Belsi; one sister, Minnie Phillips (Larry) of TN; two brothers, Richard Reyes and Rudy Reyes both of IN; and many nieces, nephews and friends.
A celebration of life will be held at 2 p.m. on Saturday, January 26, 2019, at Lighthouse Assembly of God.
Twiford Funeral Home is assisting the family with arrangements. Condolences may be expressed at www.TwifordFH.com.