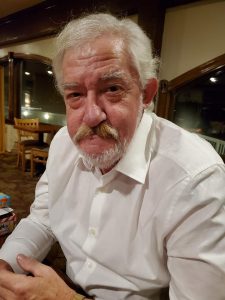 November 4, 1959 – October 24, 2022
MANTEO — Rodney Kenneth Barefoot, 62, of Manteo, NC, passed away unexpectedly on October 24, 2022.
Rodney was born on November 4, 1959, to Edward Barefoot and Mary Kathleen Barefoot in Elizabeth City, North Carolina. He was the longtime owner of Roanoke Island Taxi in Manteo, retired from Dare County DSS, and most recently, Rodney worked at the local Piggly Wiggly, where he was a favorite amongst both co-workers and customers.
Rodney was preceded in death by both his father and mother, as well as his sister, Kay Kight. He is survived by the following family members; sister, Cindy Eckert of Elizabeth City, NC; son, Kenneth Barefoot (wife Ashley) of Elizabeth City, NC; sons, James Barefoot and Adam Barefoot of Aydlett, NC; and granddaughter, Elainea Malloy of Macclenny, FL. Rodney also had multiple nieces, nephews, and step-grandchildren.
A Celebration of Life will be held at Poor Richard's Sandwich Shop in Manteo on Sunday, November 6, 2022, at 1:00 pm.
To plant a tree in memory of Rodney or send flowers to the family, please visit www.TwifordFH.com/send-flowers.
Twiford Funeral Homes, Outer Banks is assisting the family with arrangements. Condolences and memories may be shared at www.TwifordFH.com.