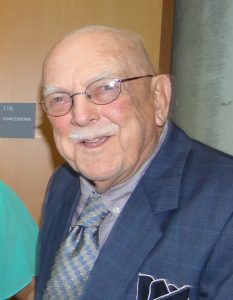 On September 9, 2023, at the age of 91, Ronald Thomas Strachan bid adieu to his earthly form and boarded the flight to his next adventure.
Born February 27, 1932, to Thomas and Blanche Strachan, Ron spent his youth in Dayton, OH. He was a first-generation American and the youngest of six siblings.
Upon graduating from Wilber Wright High School, Ron joined the Navy and proudly served in the Korean War. After his discharge, he attended the University of Dayton where he earned a degree in Civil Engineering and met the love of his life, Dana. The two married and moved to Pittsburgh, PA where he was employed by United States Steel, American Bridge Division, designing and working on the nation's infrastructure. He and Dana had four children, Kevin, Brian, Clark, and Ronda, and built a life replete with little league and midget football games, swim and dive meets, dance recitals, hunting, and fishing. If you needed a raffle ticket sold, a concession stand run, or a fort in the woods built, he was your man. He also spent countless hours carving waterfowl, at which he became quite adept, and was quite an accomplished carpenter and woodworker.
After retiring from US Steel, he moved to Nags Head, NC, and continued engineering. On the Outer Banks, chances are if you lived in it, worked in it, walked by it, drove on or over it, or ate in it, he probably had a hand in the engineering.
In 2003, Ron opened Ol' Henry's Custom Leatherworks and was able to devote his time to his exquisite leathercrafts and gun store. He was a member of the Single Action Shooting Society and loved participating in the matches. He was also one of the original founding members of the Outer Banks Gun Club, designing and building the range in Stumpy Point, the regions only public shooting facility. He held NRA certifications as a firearms instructor and concealed carry instructor.
To say Ron loved Bluegrass music would be a huge understatement. As long as he was able, he attended every day of the Outer Banks Bluegrass Festival and traveled with friends to as many festivals as he could. He was the honorary manager of The Outer Banks Gospel Bluegrass Band, whose members continued to have picking sessions at Ron's house when he could no longer travel.
Ron was predeceased by his wife Dana and his youngest son, Clark; parents Thomas and Blanche; brothers George and Francis; sisters Theresa, Claire, and Louise.
Ron was survived by sons Kevin (Brook) Sioux Falls, SD, Brian (Domenic) Collegeville, PA, and daughter Ronda (Gordon) Nags Head, NC.
Ron's larger-than-life personality meant that he never met a stranger, and he was always willing and eager to lend a hand. If you needed help, he gave it. If you needed a shoulder, he always had one available. If you just needed a good story, he had loads of those too! He will be sorely missed.
The family is currently making plans for the funeral and reception. Further details will be shared soon. Gallop Funeral Services is entrusted with the arrangements. Please share your condolences with the family at gallopfuneralservices.com.