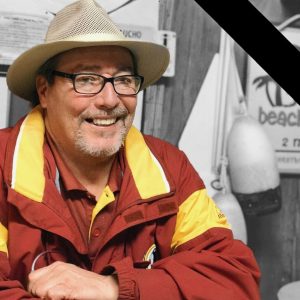 Ronald Wayne Gist was born August 12, 1956, and departed this world on November 3, 2023, with his children by his side at VCU Hospital in Richmond, VA at the age of 67.
Ron resided most of his adult life between Kitty Hawk, Manteo, and Fredericksburg, VA, but was raised throughout Northern Virginia. Once he retired, he moved back to Dare County, NC to be closer to his daughters. Ron lived a hard and fast-paced life and was notably resilient to life's adversities. He was anyone's best friend, an adventurer, and could fix just about anything he could get his hands on that was broken. He held many jobs throughout his lifetime, including real estate, sales, public and charter transportation, and general maintenance. Ronnie was known and loved by many. He was best friends and confidant of his daughter, Sarah, and they held a special bond. He was funny and crass, made you believe he was a magician with cards, had a green thumb for all things pepper, and loved loud music, whether live or over speakers. He was a diehard Washington Redskins Football Fan and could pick a blue crab faster than he could catch'em. He loved Evan Williams, hot sauce, and pickles as well as a doobie to start the day. As his legacy and memory live on, there is no doubt he will be sincerely missed.
Ronald leaves to cherish his memory his son, Nathan (Grace) Gist of Fredericksburg, VA; his daughters, Krista (Jedidiah) Sipe and Sarah Gist of Kitty Hawk, NC; grandchildren, Elizabeth and Mikayla Gist and Adeline, Isla, and Guinevere Sipe. He is also survived by his sisters, Virginia (Billy) Candelora and Debbie Stone; his brothers, Tracy (Sheila) Gist and Gary (Jessie) Gist as well as several cousins, nieces, and nephews. Ron was predeceased by his mother, Nellie Gist, father, Arthur Pastelnick Sr., adoptive father, Clarence Gist, and his brother Arthur Pastlenick Jr.
Like any father, he had his "wise" sayings, such as:
"The more you learn, the more you can learn."
"Keep your chin in the air and say 'I don't care.'"
"Don't stay away cause I'm poor, stop by and bring me something."
Ronald's Celebration of Life will be held at a later date and time; it will be announced by his family members. The family would like to thank the team at Outer Banks Health and VCU School of Medicine Hospital for their kindness and professional care. Please express condolences to the family via the online register at gallopfuneralservices.com. Gallop Funeral Services was entrusted with arrangements.