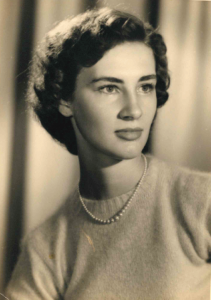 January 26, 1932 – March 20, 2023
MANTEO — Ruth Lowman Lanyon, 91, of Manteo, NC, formerly of Norwalk, CT passed away peacefully on March 20, 2023, at ECU Health Medical Center in Greenville, NC. Born on January 26, 1932, in Indiana, PA, she was the daughter of the late Kathryn R. Lowman and Blair F. Lowman.
Ruth is survived by her daughter, Sarah K. Lanyon of Manteo, NC, son Stephen R. Lanyon (Pam) of Kingsland, GA, grandchildren Tara Ramsey (Brad) of Jacksonville, NC, Cole Gruninger (Olivia Daniels) of Weehawken, NJ and Chapel Hill, NC, Katie Gruninger of Cary, NC, Adam Pasquarella of Newton, CT, and Anneli L. Lanyon of Ft Lauderdale, FL. Ruth was also blessed with three great-grandchildren, Susan, Emma, and Phillip Ramsey of Jacksonville, NC. She is also survived by her brother Les Lowman (Ann). Ruth was predeceased by her mother, Kathryn, father, Blair, husband, Rodney Herbert Lanyon, daughter Susan L. Pasquarella, and brothers Vernon Lowman and Kenneth Lowman (Sherry).
Before her marriage, Ruth worked for Beneficial Finance, but she made the decision to be a stay-at-home mom to raise her children. In her later years, she retired on Roanoke Island and worked in the gift shop at the Elizabethan Gardens for 19 years. Ruth was an active member of her community and served as the President of the Roanoke Island Garden Club from 1991 until 1995.
Ruth was very active in her church in Connecticut, teaching Sunday school and serving as a member of the Stewardship Committee. She also enjoyed singing in the choir and continued to do so as a member of St. Andrews By-the-Sea Episcopal Church. Throughout her life, she loved to dance, whether it was a modern dance or the fox trot. Ruth excelled at all forms of dance and was always involved with aerobics at the Dare Center.
In addition to her many interests, Ruth volunteered for Meals on Wheels in Dare County and was a member of Church Women United in Norwalk, CT. Her dedication to helping others and her love for her community will be remembered by all who knew her.
Ruth will be greatly missed by her family and friends. Her warm heart, caring nature, and zest for life touched the lives of everyone she encountered. She leaves behind a legacy of love, kindness, and generosity that will live on in the hearts of those who were fortunate enough to know her.
A memorial service will be held at 10:00 am on Monday, April 3, 2023, in the memorial garden at St. Andrews By-the-Sea Episcopal Church.
Memorial donations may be made in Ruth's name to St. Andrews By-the-Sea Episcopal Church (PO Box 445, Nags Head, NC 27959 or online at SaintAndrewsobx.com).
Twiford Funeral Homes, Outer Banks is assisting the family with arrangements. Condolences and memories may be shared at www.TwifordFH.com.