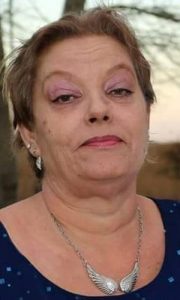 August 21, 1963 – August 1, 2023
KITTY HAWK — Sallie Marie Baum, known as Marie to many, gained her angel wings on August 1, 2023, at her residence in Kitty Hawk, NC, with her husband by her side at the age of 59.
She was born on August 21, 1963, in Marion, North Carolina, to Minnie Bell Russell Hughes and Donald Thomas Hughes. Marie grew up in Marion, NC, where she attended McDowell High School and obtained her education. She dedicated her life to being a homemaker on the Outer Banks, NC, finding immense joy in caring for her family. She enjoyed watching her soaps daily, especially The Bold and the Beautiful, loved shopping QVC for her love of jewelry, and spent lots of her free time crocheting. She also enjoyed watching wrestling and fishing with her husband. She had a generous heart and would help anyone she was able to. An outstanding wife, mother, grandmother, great-grandmother, sister, aunt, and friend that will be missed greatly.
Left to cherish her memory are her husband of 43 years, Thomas Baum, Sr.; two daughters, Lisa Chesson (DaShawn) and Nettie Baum; one son, Thomas Baum, Jr. (Mary); and adopted grandson, Joshua Baum. Also surviving are six grandchildren, Jasmine, Jade, Mary, Abigail, Daniel, and Kionna; one great-grandson, Zy'Kevion; three sisters, Louella Flores, Janice Gragg, and Donna Baum; and a host of nieces, nephews, and friends. She was preceded in death by her parents and her first grandson Thomas.
Throughout her life, Marie exemplified kindness, compassion, and selflessness. Her nurturing spirit and heart of gold touched the lives of those around her and will forever be remembered by her loved ones. Marie's legacy lives on through her children, grandchildren, great-grandchildren, and all who were fortunate enough to know her.
As we bid farewell to Marie, let us remember the warmth and love she brought into our lives. May her soul find eternal peace, and may her memory continue to inspire us to cherish our families and the moments we share together.
Twiford Funeral Homes, Outer Banks is assisting the family with arrangements. Condolences and memories may be shared at www.TwifordFH.com.