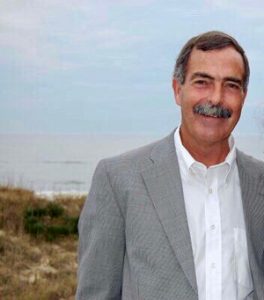 NAGS HEAD — Sidney Blaine Toler, 71, passed away peacefully at his home in Nags Head on Monday, February 24, 2020. He was born on June 11, 1948, in Elizabeth City, NC, to the late Sidney Caleb Toler and Leola Perry Toler of Kitty Hawk Village.
Blaine graduated from Manteo High School in 1967, where he was named cutest of his senior class. He married his high school sweetheart, Gloria Linda Parent, the mother of his three children, and served in the U.S. Coast Guard from 1967-1973. He worked overseas on an oil barge in the North Sea while his family lived in the Netherlands for a year. He retired from the National Park Service, where he was employed as a mechanic for 27 years.
Blaine wasn't much of a talker, but he meant every word he said. He always arrived early and had a fierce love for his family. He was a mechanic by trade and could fix absolutely anything. He liked his coffee black and picked up snakes with his bare hands. He enjoyed fishing, fast cars, adventure novels, cheesecake and good scotch.
He was his firstborn daughter's hero. He never let her down a day in her life. He once used a blow torch to make her a set of metal Wonder Woman bracelets to deflect bullets.
His son was his best friend. He caught his biggest king mackerel ever with him off Oregon Inlet. He taught him everything he knew about fishing, car engines and motorcycles, and took pride in helping him build a custom orange and silver flame chopper.
He affectionately called his youngest daughter "kiddo" and taught her to be self-sufficient. He made sure she knew how to change a tire, jumpstart a car, rewire a dryer and assemble a jungle gym for her twins in 30-degree weather.
In addition to his parents, Blaine was preceded in death by his wife of 17 years, Virginia Gail Toler; his nephew, Steven Midgett; and his brother-in-law, Ray Midgett. He is survived by his three children, daughter Phebe Toler Cooper of Kill Devil Hills; son Kristian Blaine "Buddy" Toler of Kitty Hawk; and daughter Shannon Toler Glaser (Edward) of Kill Devil Hills; four grandchildren, Peyton Emily Dare Cooper of Raleigh; and Flynn Sidney Campbell Cooper, Emerson Natalie Glaser and Easton Blaine Glaser, all of Kill Devil Hills; beloved brother Tommy Toler (Margaret Joy) of Wanchese; four sisters, Sandra Midgett of Southern Shores; Daphne Casper (Raye) of Kitty Hawk; April Hardison (Carl) of Plymouth; and Melanie Toler (Tim) of Kitty Hawk; aunts Doris Pruitt of Kitty Hawk; Melba Perry of Southern Shores; and Shirley Toler of Havelock; uncles Wally Wise of Moyock; and Edison Midgett of Manteo; and many close cousins, nephews and nieces.
His children's love for him is deeper than the ocean, and he will be dearly missed. A graveside memorial service will be held at 11:00 a.m. on Saturday, March 14, 2020, at Austin Cemetery in Kitty Hawk, with cousin Rodney Perry officiating.
Twiford Funeral Homes, Outer Banks is assisting the family with arrangements. Condolences and memories can be shared at www.TwifordFH.com.