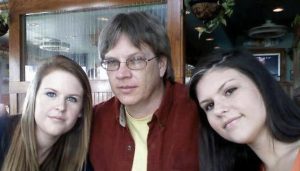 April 22, 1967 – October 30, 2023
MANTEO — Stanley Chris Payne, Jr., 56, of Manteo, North Carolina, went to be with our Lord and Savior Jesus Christ early Monday morning, October 30, 2023, after a long battle with dementia.
Chris was the son of Stanley Chris Payne, Sr. and Noelle Payne. Chris was born in Portsmouth, VA, on April 22, 1967, but grew up in Manteo, NC. He spent several years in Currituck, NC, with his wife, daughters, and grandchildren before returning to Manteo for his final years. He graduated from Manteo High School in 1985 where he was on the football and track team. Chris worked for Dare and Currituck County Water Departments as an operator for approximately 20 years.
Chris loved his girls and grandchildren very much. There wasn't anything he wouldn't do to make them happy. He enjoyed spending time with family and friends. Chris didn't know a stranger, and he loved to laugh, despite everything. As a friend, he was loyal, dependable, easygoing, and non-judgmental. He was a one-of-a-kind friend. Chris also enjoyed spending time on the water hunting, skiing, and just being out on the boat. He was a faithful member of the Jarvisburg Church of Christ and enjoyed times of fellowship with everyone.
Chris is survived by his wife, Kimberly C. Payne; daughters Emily Cooper and Samantha Payne of Jarvisburg, NC; his mother Noelle Payne and husband John Booth of Manteo, NC; his father Stanley Chris Payne, Sr. and wife Chip Payne of Kitty Hawk, NC; brother Barry "Bear" Payne and wife Laryssa of Omaha, NE; grandchildren Colin Cooper, Kingston Bowe, and Charley Cooper; step-siblings, numerous cousins, aunts, and uncles; and countless friends.
The family expresses sincere gratitude to his caregivers and to all who have expressed their love and prayers for Chris and his family.
A memorial service will be held at Jarvisburg Church of Christ at 121 Forbes Road, Jarvisburg, NC 27947, on November 11, 2023, at 11:00 am. All are invited to stay for a time of food and fellowship immediately following the service.
Twiford Funeral Homes, Outer Banks is assisting the family with arrangements. Condolences and memories may be shared at www.TwifordFH.com.