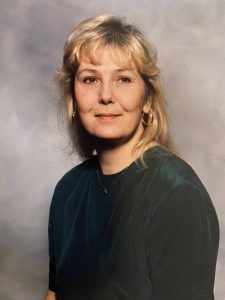 With fond and loving memories her children announce the passing of Starr Roy Bell, 71, of Avon, NC. As our shining star and guiding light, she more than lived up to her beautiful name and brought joy into every life she touched. She was a talented artist whose works featured the landscapes and flora of the places she loved, especially those of her beloved home island, Cape Hatteras. Starr's soul departed this earth on August 22, 2023 at the home of her daughter, Mary, in Groton, CT.
Starr is preceded in death by her parents, Robert C. Roy, Sr. of Thornton, WV, and Vivian Scarborough of Avon, NC and one sister, Ginger Scarborough Austin of Hatteras, NC. She is survived by her daughters, Truly Clark and Mary Robertson (Jeff) of Groton, CT and her son, Sam Bell (Jen) of Avon, NC, along with her grandchildren, Nathan and Megan Robertson, and Maddie Bell. She is also survived by her siblings, Edward J. Scarborough, Jr. (Nancy) of Hateras, NC, Alan Scarborough (Amy) of Avon, NC, Mark Roy, Sr. (Dorothy) of Quakerstown, PA, Eric Roy (Carrie) of Peachtree, GA, Kim Martin (Doug) of Frisco, NC, Mike Roy of Grafton, WV, and Robert C. Roy, Jr. (Melissa) of Charleroi, PA.
Services will be at the St. John United Methodist Church in Avon, NC on August 30, 2023 at 2pm. In lieu of flowers the family asks that donations be made to St. John United Methodist Church, P.O. Box 129, Avon, NC 27915-0129, and/or the Hatteras Island Cancer Foundation, P.O. Box 442, Hatteras, NC 27943.
The service will live-streamed on the St. John UMC Facebook page. https://www.facebook.com/stjohnobx