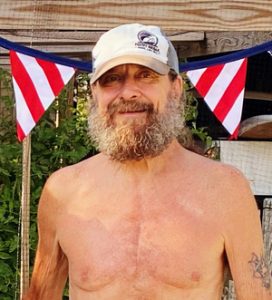 January 12, 1957 – February 3, 2023
BUXTON — Steven Douglas Palmer, 66, of Buxton, NC died Friday, February 3, 2023, at ECU Health Medical Center in Greenville, NC.
Born in Greenville, PA on January 12, 1957, he was the son of Virginia Pearce Palmer and Harold Palmer.
Growing up in Greenville, PA, Steven was an Eagle Scout and graduated from Greenville High School. He spent his career in construction working for Richard Fisher Construction and Custom Creations.
Steven enjoyed fishing, gardening, going for walks, rooting for the Steelers, enjoying the beach and the pier, and talking with people. Most of all, he valued spending time with his granddaughters and family.
In addition to his parents, Steven was preceded in death by his wife, Verlene "Sam" Mae Palmer; sister, Diane Byers; and brother, Brian Palmer.
He is survived by two daughters, Wendi Munden (Matt) of Buxton, NC and Nicole Larsh of Kissimmee, FL; son, Marco Hinkson (Heather) of Greenville, PA; seven grandchildren, Cameron Munden, Gwen Munden, Jordan Larsh, Austin Larsh, Madison Johnson, Blake Hinkson, and Trent Hinkson; and one great-grandchild, Luca Larsh.
A celebration of Steven's life will be held at 11:00 am on Saturday, February 11, 2023, at St John United Methodist Church, Avon, NC with Pastor Gina Miller officiating.
In lieu of flowers, memorial donations may be made to Hatteras Island Meals, Inc. (hatterasislandmeals.org) or Hatteras Island Cancer Foundation (hicf.org).
Twiford Funeral Homes, Outer Banks is assisting the family with arrangements. Condolences and memories may be shared at www.TwifordFH.com.