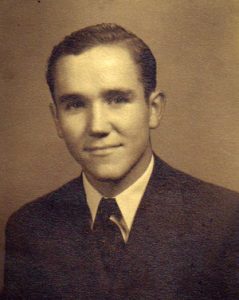 February 2, 1925 – April 21, 2019
FRISCO — Wash Martin Jr., age 94, of Frisco, NC passed away on Easter Sunday, April 21, 2019 from old age.
Wash was born February 2, 1925 in Clinton, Hickman County, Kentucky to Newt Washington Martin and Nellie Jemima Josephine (Warf) Martin. He was born the fifteenth of sixteen children on a sharecropper's farm. He learned to chop cotton and work hard at an early age. While growing up, Wash could hardly wait until it was warm enough outside to go barefoot. He learned to hunt and fish at an early age and helped provide food for the family table with the help of his favorite dog, Snooks.
Immediately after his graduation from high school in Clinton, Kentucky, Wash joined the Navy. World War II was in full swing and after training in Hawaii, Wash joined the crew of an aircraft carrier, the USS Lexington, deployed in the Pacific theater. He proudly served as an aircraft captain (in charge of all maintenance on a specific airplane) on the USS Lexington, also known as the Blue Ghost, for several years and was aboard the ship when it was hit in the control tower by a Japanese kamikaze. He was also able to watch the fireworks in the night as several Japanese planes were taken out in the distance by US fighter pilots.
After the war was over, Wash left the Navy, went to college for a couple years and then joined the Air Force. He made the Air Force his career and became a meteorologist until his retirement as Master Sergeant. Following retirement, he continued his career as a meteorologist with the National Oceanic and Atmospheric Administration, where he briefed Navy Pilots on the weather before their flights.
Wash married his one love, Peggy Louise (Gowen) Martin on February 16, 1956, in Florida, and gained not only a beautiful bride but also became a father to her three young children: Lynda Jayne, David Lennis, and Kelly Jean. Soon after, they were stationed in Fairbanks, Alaska, where it was so cold, they could scrape frost off the inside walls of their house. While they were there, they welcomed baby Douglas Carlton to the family. Two years later, Wiley Clinton was born, and then eight years after that, they had a "surprise" – Eileen Marie.
Thanks to the military, Wash received his Master's Degree in his forties. He loved to hunt squirrels, loved to fish – that's what brought him to Hatteras Island, loved to sing, quote scripture, and in his earlier days, loved to garden. For years he had huge backyard gardens. Wash also made many special wood crafts in his backyard shed before his stroke, and gave them away to many friends and family.
One of the biggest loves of his life in his later years was the Gideons. Wash was passionate about the Gideons and their mission of giving Bibles to everyone. He visited various churches to raise money for Bibles and handed out boxes of them. He also visited the inmates in prison to bring them the Good News and led several people to know Jesus along the way.
Wash has now met Jesus, his savior, face-to-face! Imagine his joy as he is able to walk and run and sing again! And he is reunited with his bride of over 60 years, and his son, David. What a reunion that must be! Heaven is now a little sweeter for the rest of us.
Wash was preceded in death by his parents, his fifteen siblings, his beautiful wife, Peggy, his son David "Bucky" Martin, and son-in-law, Joey Brunson. Those left behind include his children: Lynda Doggett, Kelly Brunson, Douglas (Kimberly) Martin, Wiley Martin, and Eileen (David) Botello. Also, grandchildren: LeAnn Kirkland, Bryan Clarke, Mary Krawchuck, Abe Thomas, Nikki Martin, Whitney Austin, Carley Martin, Evan Botello, Eric Botello, and Douglas Botello, along with multiple great-grandchildren.
"For God so loved the world, that He gave his only begotten Son, that whosoever believeth in Him, should not perish, but have everlasting life." – John 3:16
A funeral will be held 2:00 pm on Wednesday, April 24, 2019, at Lighthouse Assembly of God. The family will receive friends and relatives prior to the service beginning at 12:00 pm. Private burial will take place in the Martin family cemetery.
Twiford Funeral Home is assisting the family with arrangements. Condolences and memories can be shared at www.TwifordFH.com.