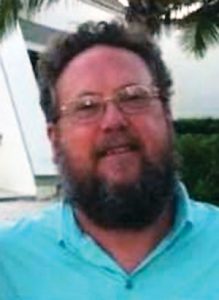 William Harrison "Harry" Williams, age 66, of Elizabeth City, NC departed this earthly plane, Wednesday, July 29, 2020 at his home. Born in Buxton, NC on April 10, 1954 to Leona Meekins Williams and the late Herscal Peele Williams, Sr., he was the husband and soul mate of Dewanna Austin Williams. Harry had a passion for cooking, was a chef for a number of local restaurants, founder of West End Station and most recently a personal chef on the Outer Banks. He was a prolific writer, political pundit, lover and collector of music, and a true free spirit who loved life and his family. He never missed an opportunity to say I love you. Harry was known for his kind, compassionate and gentle soul as well as his complex and brilliant mind, both of which touched so many. His absence will leave a chasmal void in the lives of those he knew.
In addition to his wife and mother, Harry is survived by three daughters, Rachel Williams Benton and Natasha Quidley, both of Buxton, NC and Marlee Williams Harrison and husband Ian of Elizabeth City, NC; two sisters, Kaye Williams Bean of Elizabeth City, NC and Andrea Williams Cook and husband Robert of Hertford, NC; a brother H.P. Williams, Jr. and wife Sybil of Elizabeth City, NC; and seven grandchildren, Daeson Jakob, Riley Jakob, Aylah Hooper, Lydia Hooper, Kaya Burgess, Evie Harrison, and Percy Harrison. He was predeceased by a son-in-law, Warren Benton.
A memorial service will be held at 6:00 pm, on Friday, August 7th, 2020 on the beach at the end of Old Lighthouse Road at the third jetties in Buxton, NC. In lieu of flowers, memorial donations may be made to the American Civil Liberties Union at https://action.aclu.org/give/now. Twiford Funeral Home, 405 East Church Street, Elizabeth City, NC is serving the Williams family. Online condolences may be sent to the family at www.TwifordFH.com.