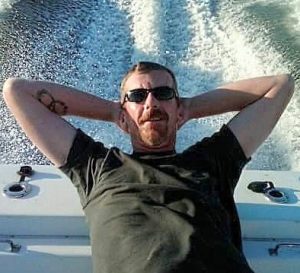 BUXTON — William Philip "Bill" Tamony Sr., 52, of Buxton, NC, went on to his eternal rest early on Thursday morning, October 26, 2023, following a two-year-long battle with cancer.
Bill was born on December 22, 1970 in Missouri (or Miz-ur-ah as he said it was pronounced) to Sandra and Joseph Tamony as the fourth and youngest child of their family. As a Navy kid, he lived in multiple cities and states, but finished the majority of his pre-adult years in Goochland County, VA, where he graduated from high school in 1988.
Bill went on to eventually begin a career as a professional glazer in both Goochland County, VA and Hampton Roads, VA, where he eventually settled with his children. He took great pride in his work and could point out every building that he had had a hand in installing the glasswork for.
Following his cancer diagnosis, he settled in the Outer Banks, NC where the relaxed and positive atmosphere brought him much peace and comfort. Bill adored time spent near the water, whether simply soaking up sunlight or fishing from the beach. He loved the outdoors in general, having spent much of his childhood hunting, camping and fishing with his brother and friends.
Bill was also an outstanding artist, despite having no formal training. He was well known in his college years at VCU for scribbling amazing ballpoint pen drawings on napkins. He could create the most intricate and detailed works of art from materials on hand with nothing but an idea in his head, to the amazement of both friends and family.
He was a quiet man, much more content to simply watch and let others speak. At 6'8″ he always stood out in a crowd, much to his chagrin, as he could be rather shy. But when he did choose to make his thoughts known, it was with a witty and often sarcastic sense of humor. With family, he was well known for his dark humor and movie quotes, mostly from Mel Brooks films (a family favorite).
Bill was endlessly generous, willing to give everything he could to someone to make their day even a little bit better. He was willing to help wherever the help was needed. A true handyman and jack-of-all-trades, he could fix just about everything, from cars to plumbing to drywalling.
Bill is predeceased by his mother, Sandra Tamony, and nephew, Aidan Peters. He leaves to cherish his memory: his three children, Grace, Abigail, and Philip Tamony; his father, Joseph "Joe" Tamony and his wife, Joyce Morden; his three siblings, Carole Morgan (Rodney), Michael "Mike" Tamony, and Rebecca Peters (Adam); as well as his partner, Cindy Floyd, along with several nieces, a nephew and many friends.
In true Bill-like (not wanting to cause a fuss) fashion a small and private viewing was held Friday, October 27, 2023 for family to say their final farewells. A memorial service will be held at a later date for extended family and friends to pay their respects.
"We'll all be space dust eventually, so look up and think of me, and all that will come." -Bill Tamony
"Could be worse… could be raining." -Igor (from the film Young Frankenstein)
Please share condolences at gallopfuneralservices.com. Gallop Funeral Services was entrusted with arrangements.