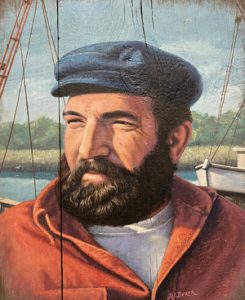 February 8, 1946 – April 23, 2023
WANCHESE — William Tyndale "Punk" Daniels, 77, of Wanchese, North Carolina, died on Sunday, April 23, 2023, at Chesapeake Health and Rehabilitation Center.
A native of Wanchese, Punk was the son of the late Maude Etheridge Daniels and Malcolm Spencer Daniels. In addition to his parents, he was preceded in death by sister Faith Daniels Miller, and brother Thomas William "Tom Bill" Daniels.
As a commercial fishing boat captain with Wanchese Fish Company, Punk spent countless hours on the water, providing for his family, and contributing to the local economy. In addition to his work as a captain, Punk was a co-owner of Wanchese Fish Company. Punk's expertise in the fishing industry was legendary, and he was widely known in fishing ports on both coasts of the United States. Punk was also well known for his trademark whistle; if you heard it, you knew it was him and that he would "see you around like a donut."
Punk is survived by five children, Billy Daniels, Dana Daniels Grindle and husband Mark, Jeremiah Daniels, Maria Daniels, and Asher Daniels, and seven grandchildren, Olivia Daniels and husband Cole Gruninger, Elayna Daniels, Dirk Daniels, Cole Grindle, Lauren Grindle, Macon Morrill, and Mamie Morrill. Also surviving are his nine brothers, Kenny Daniels and wife Cheryl, Malcolm "Apple" Daniels and wife Luciano, David Daniels and wife Kay, Michael Daniels and wife Sue, Timmy Daniels, Joey Daniels and wife Vicki, Chris Daniels and wife Cammie, Mark Daniels and wife Cathy, Sam Daniels and wife Theresa, and three sisters, Esther Daniels Wilder and husband Jimmy, Nanette Daniels Channer and husband Mark, and Amy Daniels Lanier and husband Arnold, as well as numerous nieces, nephews, cousins, and friends. Punk is also survived by his faithful canine companion, Macy.
The family will receive friends and relatives for a viewing and visitation on Friday, April 28, 2023, at Twiford Colony Chapel from 6:30 until 8:30 pm. A funeral service will be held at 2:00 pm on Saturday, April 29, 2023, at Wanchese Assembly of God with a viewing to begin one hour prior. Burial will take place in Cudworth Cemetery.
Twiford Funeral Homes, Outer Banks is assisting the family with arrangements. Condolences and memories may be shared at www.TwifordFH.com.