DECA's Dive into the chilly Atlantic benefits Hatteras Island Meals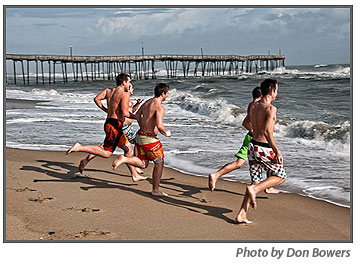 While many may have been fighting to stay dry on Saturday, a handful of folks in Avon charged bravely into the icy Atlantic in a show of support for a local non-profit.
Traditionally, chili cook-offs on Hatteras Island do not feature a dip in the ocean. However, their efforts certainly added some spice and entertainment to the DECA Dive for the benefit of Hatteras Island Meals.
Olivia Gaskins and Alexis Gray, both of whom are seniors at Cape Hatteras Secondary School, organized the event as part of a community service project that will be presented at the statewide DECA competition in February.
Gaskins and Gray developed the unique concept of pairing a "polar plunge" and the chili cook-off with the hope of garnering greater public appeal and providing incentive for potential divers.
"We wanted something to warm people up because it's hard enough just to bring yourself to dive in the ocean," explained Gray.
Their ingenuity managed to entice nearly 20 courageous souls to strip down to bathing suits and shed their inhibitions on the beach during a brief reprieve from the rain.  And, just around noon, the crowd of onlookers watched in anticipation as they sprinted toward the imminent shock.
To the surprise of many within the audience, the divers did not immediately resurface and retreat from the frigid waters.  In fact, several participants returned for a second, and even a third, dip into the ocean.
"It was awesome," recalled Yuliana Martinez, a diver and Cape Hatteras Secondary School graduate from Avon.  "I thought it was going to be freezing, but it was not that cold."
According to Martinez, the wind and strong southeast current were more unnerving than the actual temperature of the water.
"The current looked really strong and I was nervous about going in," said Martinez.  "I would actually go swimming, but it was scary because the water was so rough."
Ultimately, Martinez disregarded her reservations with the polar plunge by focusing on her desire to support the cause and show appreciation for the DECA program she had treasured as a student.
It was the same sense of community spirit that brought John Greyson of Avon to face the rough waters on Saturday.
"You have to come out to show support," stated Greyson.  "It's all friends and family here.  Plus, the ocean wakes you up.  It's an attitude changer."
It certainly roused the appetites of all those in attendance.
The 11 cook-off competitors manned their crock pot stations immediately following the polar plunge and prepared for the tasting to begin.
The contestants provided an array of different chilies to sample, varying in both style and protein choice, and many offered cheese, sour cream, and chips to enhance the experience.
In the end, Bonnie Gray, Alexis' mother, dished up a classic meat chili that outshined the others, earning her the title of champion and a handcrafted clay bowl donated by Kinnakeet Clay.
It remained apparent throughout the entire event that the families and friends of Gray and Gaskins played a significant role, not only in supporting the event, but also in inspiring their decision to focus their project on Hatteras Island Meals.
Hatteras Island Meals is a local, non-profit organization that delivers meals to elderly and ill residents within the community.
Both Gray and Gaskins possess direct ties to the organization – Gaskins' grandmother serves as its treasurer and Gray's grandmother receives meals now that she has difficulty cooking for herself – and felt it would be a worthy cause to support during their campaign against hunger.
The organization's financial difficulties, which caused a temporary suspension of services in 2013, supplied further fodder to support their selection.
"Hatteras Island Meals has struggled in the past few years and had to cut down a lot on their service," said Gray.  "We thought it would be a good idea to raise awareness for them and also raise money for them."
Natalie McIntosh, the president of Hatteras Island Meals, was thrilled with the students' choice and showed her appreciation by jumping in the Atlantic alongside the other divers.
Since the setback last year, their delivery population has remained relatively stable –around the mid-30s—and McIntosh hopes to maintain this level of service throughout the winter.
"This event is great because it will provide an influx in January when, historically, the giving stream tapers off a bit," explained McIntosh.  "It has been really nice when people remember our organization"
Folks within the community have maintained an active interest in the organization and they continued to receive regular donations from the local civic associations, churches, realty companies, and other businesses, but dwindling contributions may damper their progress towards financial stability.
McIntosh was grateful that Gray and Gaskins chose to benefit Hatteras Island Meals and was thoroughly impressed by their performance throughout the entire endeavor.
Evan Ferguson, their DECA advisor and marketing education teacher at Cape Hatteras Secondary School, was also delighted by her students' success in planning the event.
Ferguson employed a hands-off approach to overseeing the project  – acting as a sounding board rather than micromanaging — and was pleased with their professionalism, organization skills, and attention to detail.
"They executed everything themselves," boasted Ferguson.  "I am really proud of them."
The chili cook-off and polar-plunge fusion received countless positive reviews and proved to be a highly successful fundraiser.  Over 40 islanders attended the DECA Dive and the event raised $958, enough to supply nearly 150 meals, to contribute to the long-term success of Hatteras Island Meals.
"It's been a lot of work," mentioned Gaskins, "but it's a good experience with a positive outcome."
At the end of January, Gray and Gaskins will also contribute any donations collected through a secondary fundraising event that they established at the elementary school, the Penny Drive for Hatteras Island Meals.
For the Penny Drive, buckets have been placed throughout the school and the students have been asked to donate their spare change toward the cause.
They chose to incorporate the small-scale component of their project because they felt that their project last year, an anti-bullying campaign at the elementary school, positively benefitted the students.
"We didn't want to completely stop after last year's project," said Gaskins.  "We wanted to involve them this year, too."
Once all aspects of the project are complete, they will compose a 30-page paper detailing their work and create a presentation that will be delivered in front of one or two judges at the North Carolina DECA Career Development Conference in Greensboro.
They feel confident in their work and hope to proceed to the national competition, which will be held in Atlanta, Ga., later this year.
Regardless of their success in the competition, Gray and Gaskins have already excelled as young professionals and as members of their community.
"I'm just so happy to be helping such a great organization," summarized Gray.
People interested in volunteering their time with Hatteras Island Meals can contact Natalie McIntosh via e-mail, nataliemcintosh@yahoo.com, or through Facebook.
To make a donation, mail a check payable to Hatteras Island Meals, Inc. to P.O. Box 854, Frisco, NC 27920 or access the Pay Pal account listed on Facebook.