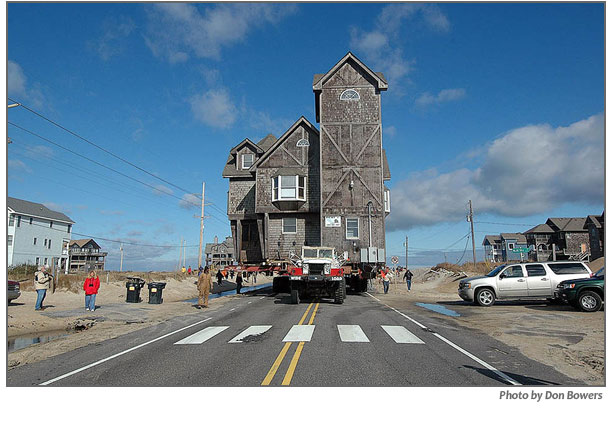 ….WITH VIDEO AND SLIDE SHOW
….WITH VIDEO AND SLIDE SHOW
The journey of Serendipity, the "Nights in Rodanthe" beach house, resumed pretty close to on schedule on Monday morning, January 18, and once the hulking building got rolling it took just 22 minutes to get it to its new space down Highway 12.
People lined the highway taking pictures, and some walked along with the famous house the whole 2,500 or so feet to its new lot. A helicopter circled overhead.
"It was like a parade," said Jim Charlet, manager at Chicamacomico Life-Saving Station and Historic Site, who was one of the onlookers.
Frenetic day-long efforts to get Serendipity off the beach at its old site, where it was threatened by the ever-encroaching surf of the Atlantic Ocean, were halted at dusk Friday just short of the highway's edge.
The house is 45 feet high and 35 feet wide, and it weighs 83,000 pounds. Jim Matyiko of Expert House Movers and his crew scrambled from daylight Friday to let the house down off its pilings onto a trailer for the move, but the Dare County Deputy Sheriff's Office ultimately judged that it would be too dangerous to take it out onto the busy highway in the dark.
Project manager Mike Price noted at the time that Serendipity should be safe on the trailer up off of the beach, away from pounding waves that had undermined its cribbing timbers Thursday night.
Matyiko thought it would take 45 minutes to an hour to make the short trip south to East Beacon Road in Rodanthe.  His company moved the Cape Hatteras Lighthouse in 1999 and is often called in on difficult jobs.
The new lot is situated a good distance back from the ocean waves that threatened the iconic beach house and drew concern and sympathy from beach lovers across the country for a number of years. Serendipity has two high towers, and since it was built in 1988, it has been the first beach cottage to come into the view of travelers headed south from Herbert C. Bonner Bridge across Oregon Inlet.
It became even more famous as the site of "Nights in Rodanthe," a 2008 feature film that starred Richard Gere and Diane Lane.
But the ocean has been moving westward at the upper end of Hatteras Island for a number of years, and several houses have fallen into the ocean. People wondered after each new storm whether Serendipity was still standing.
Michael and Susan Creasy, of Champion, Pa., repeatedly repaired storm damage at the house, but finally agreed to sell it last fall after Dare County authorities declared it a public nuisance and ordered it moved or torn down. Ben and Debbie Hess, of Newton, in western North Carolina, bought the house to save it, they say. But they also hope its movie fame will attract renters and help pay the mortgage. And two renters had signed on before the move was completed.
Price had said all day Friday, in answer to questions from a shivering crowd of onlookers that reached 60 or so at one point, that the house was "going down the road."
Today, as he walked beside the slowly trundling house, he could be heard saying to somebody on his cell phone, "She's going down the road."
Price had announced when movement stopped Friday that it would resume at 10 a.m. Monday. At 10, he was standing in front of the World War II tractor that was ready to haul the big house out onto the road, assuring North Carolina state troopers that Matyiko would be there any minute with the required permits.
Senior Trooper Chris Newbern, who is stationed in Manteo, joked with Price and a handful of onlookers while they waited, explaining that the permit would have details such as the width of the load and how many escorts would have to be provided. He said it was his job to make sure the document was observed to the letter.
"The permit tells you exactly what you've got to do," he said. "If it says you have to stand on one leg and go down the road whistling Dixie, that's what I have to see."
Matyiko's SUV with the mover's trademark cigar poking out the window showed up at 10: 20 a.m., and at 10:37 the big tractor, driven by Jim Matyiko's "big brother," John Jr., puffed smoke and the behemoth moved.
Marsha Brown, of Marsha M. Brown & Company, who sold the house to the Husses, walked along the highway as the building moved, also talking on her cell phone. She was talking to Michael Creasy, who wanted a blow-by-blow.
Asked how he felt now that the house was finally out of danger, he said, "It's bittersweet, I guess. It's good for Serendipity. It's very sad for Susan and I."
But Creasy said he's looking forward to spending his week a year in the house, which he and his wife were guaranteed in the deal. "I still call it my house," he said. "Eventually I'll stop doing that."
Serendipity paused briefly at the corner of Beacon Road and the highway while workers got underneath and removed a concrete post they couldn't miss, and then coasted to a stop alongside the new lot.
"I'm going to tell you those boys know what they're doing. They deserve every penny they got," Price said.
After that, it was a matter of making a big U-turn on the lot to put the ocean end of the house back toward the sea, and the land side back out toward Highway 12. It was an involved process because the new lot is all sand and large iron plates had to be laid ahead of the load as it moved.
But it didn't take long. Matyiko squinted to line up surveyor's stakes with the corners of the house, and stood up.
"Could it go back a hair?" Price asked.
The big tractor huffed again and the house moved.
"That's good, Jim. Lock it down right there," Price said. "I can live with that." It was 1:45 p.m.
Next, Matyiko will raise the house with cribbing timbers to a point where Jeff Emanuelson of Emanuelson & Dad can get under it to insert 16-foot pilings into the sand below it. Emanuelson said he'll dig holes with an augur down to the water table, then put the pilings in and use high pressure water to coax them a little deeper, and then use a vibrating hammer to "vibrate them on down." Emanuelson said the pilings will be pressure-treated pine.
Once they are sunk they will be anchored with concrete, and the above-ground pilings will be tied to them with notches and plates. He said it will take about three working weeks to get the house back on its solid footing.
Price, meanwhile, has the job of putting the house back into the shape it was in for the movie. Hollywood dressed Serendipity up with some white porches and blue shutters that had to be removed after the shoot because they were installed under a temporary permit.
Interiors for the movie were shot at another house that is arranged a bit differently inside, but the Husses want the movie look to help carry out the "Inn at Rodanthe" theme.
"We'll have this house ready by the first of April," Price said. "There won't be any stopping. It will be seven days a week."
He said the cost of the whole project will be on the order of $700,000 to $750,000 when it is all done.
CLICK HERE TO VIEW SLIDE SHOW