UPDATE: Friends still searching for missing Frisco hunter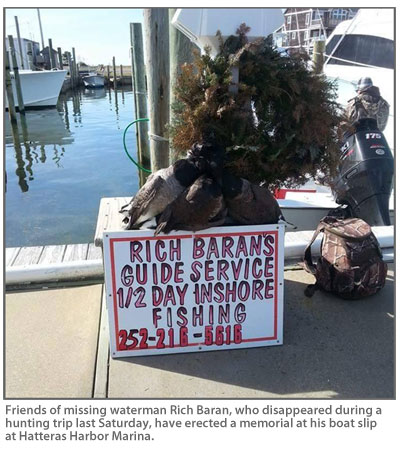 Friends of missing Hatteras Island waterman Rich Baran were out in force in their boats again today searching for a trace of the 47-year-old Frisco man who disappeared while on a hunting trip by himself Saturday afternoon in the Hatteras Inlet area.
Rom Whitaker, captain of the charter boat Release and a friend of Baran's, said there were quite a few boats out again today as there have been every day since he went missing.
"It's funny, but I keep thinking I'll see him waving from a duck blind or running along the shoreside," said Whitaker.
Whitaker said the last contact anyone had with Baran was about 2 p.m. on Saturday afternoon, which was a cold, blustery day.  The wind was blowing about 30 knots, and there were intermittent snow showers.  Baran told a friend on the phone that he had shot some ducks and would be heading in soon.
But he  never made it back to the dock.
Friends started searching for him Saturday night, and the Coast Guard says it was notified at 11 p.m. on Saturday night about the missing hunter.
A Coast Guard 29-foot Response Boat-Small crew launched from Station Hatteras Inlet to search for Baran, and an MH-65 helicopter crew from Air Station Elizabeth City launched and arrived on scene.
Friends found Baran's boat with his hunting gear still in it not far from his blind, which was near the old Dredge Island.  The anchor line on the skiff was wrapped around the propeller. Later, searchers they found his waders on the soundside of Hatteras spit, near the cable crossing.
The Coast Guard officially suspended its search on Sunday afternoon after covering 33 miles over eight hours, though Whitaker says he's seen USCG boats out looking.  The Hatteras Island Rescue Squad has also been involved in the search.
Over the last three days, dozens of watermen from both Hatteras and Ocracoke have been searching on land and on the water, on the oceanside and the soundside of islands.
"We all hope to find something," said Whitaker, adding that there's "just no telling where he might have gone."
The currents in the inlet area are strong and dynamic, and no one is sure exactly when the accident happened. The timing of the tides and currents probably affected the direction in which Baran could have drifted.
Baran, who grew up on the Jersey shore, has been around the Hatteras docks for a number of years.
"He's mated for many of us," Whitaker said, and he also had his own inshore fishing and hunting guide service out of Hatteras Harbor Marina.
"It isn't like he wasn't experienced," he added. "It just seems that everything must have gone downhill in a hurry."
There may be fewer boats searching since the weather forecast is for wind and rain for several days.
But, Whitaker said, "We're never going to give up entirely."