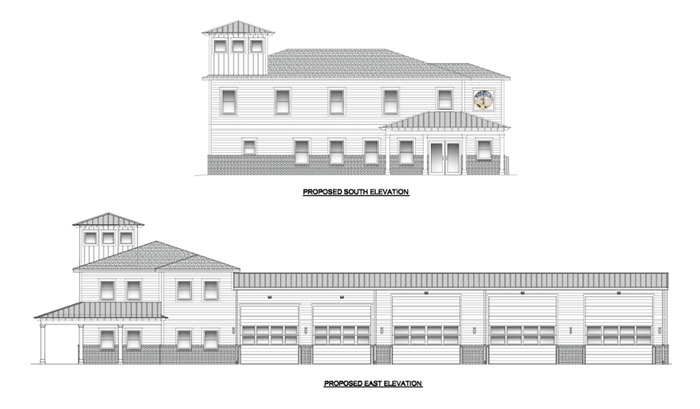 Groundbreaking for the new Buxton Volunteer Fire Dept. launched on Thursday, January 3rd, 2019. The new state-of-the-art facility will feature five truck bays that will house the emergency vehicles, meeting rooms, offices, and storage rooms for the volunteers, as well as a fully equipped kitchen.
Founded in 1964, the Buxton Volunteer Fire Dept. serves the small community of about 1,500 year-round residents, in an area that covers 2.96 square miles. In the summer months, collectively, that number can swell to over 2 million.
This much-needed new firehouse will take approximately nine months to complete according to Paul Henriques, the General Contractor. His company, Premiere Contracting, Inc., built the Roanoke Island Fire Department and the Ocracoke Fire Department, so they are no strangers to the logistics involved in this kind of project.
Chief Bryan Perry who joined the Buxton VFD in 1976 when he was 20-years-old, and who has been chief since 1982, says that he and his fellow officers are thrilled to be finally getting a new building. The need has risen greatly as Hatteras Island continues to grow in visitor population each year.
A ground breaking ceremony to celebrate the new construction will take place on Friday, February, 1, 2019. Everyone is welcome.
Please visit the BVFD Facebook page and the Premiere Contracting Inc. Facebook page at https://www.facebook.com/BuxtonVolunteerFireDepartment/ and https://www.facebook.com/Premiere-Contracting-Inc-378491272269534/ to follow along with this exciting project.