Severe weather likely this afternoon and evening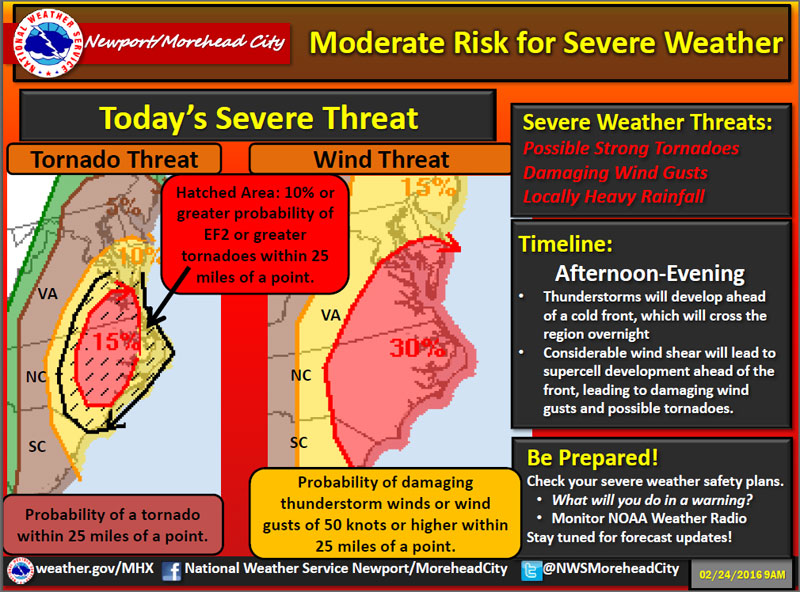 A strong cold front approaching warm and unstable air in eastern North Carolina is forecast to bring an outbreak of severe thunderstorms this afternoon and evening with the potential of wind gusts in excess of 70 mph and isolated strong tornadoes.
NOAA's Storm Prediction Center says the area, which includes all of the Outer Banks, has a moderate risk of severe weather with the biggest threat from about 1 p.m. until 10 p.m. this evening.
"This is expected to be a high impact severe event," the National Weather Service in Newport/Morehead City said in a statement this morning. "Severe storms are likely and they have the potential to be stronger than a normal severe weather outbreak for this area."
The Weather Service says thunderstorm wind gusts could be on the upper end of what is typically experienced in the area — with wind gusts of 70 to as much as 100 mph that could produce damage similar to a tornado.
NWS forecasters also say that the potential exists for stronger tornadoes than what is typical for the area.
There will also be strong gradient winds ahead of and behind the storms that may contribute to the impact.
One to two inches of rain is also possible with the system.
The Storm Prediction Center has already issued a tornado watch for seven counties southeast of the Outer Banks until 7 p.m. and forecasters in the local weather office say to expect more severe weather watches and warnings as the afternoon progresses.
Dare County Schools were dismissed at noon because of the weather forecast and all after-school activities have been cancelled. Dare County offices closed at 1 p.m.
Also, the Dare County Democratic Party has cancelled its candidates forum, scheduled for tonight in Nags Head.
In an e-mail to NWS partners, Richard Bandy, meteorologist in charge of the Newport/Morehead City office, said he especially wanted to promote awareness of the possible straight-line winds in thunderstorms, in addition to the tornado threat.
"Please react to severe thunderstorm warnings today with the highest urgency, just as you would a tornado warning," he said.
"I hope you will all prepare for the worst in this outbreak and join me in hoping for the best with as little damage as possible and no fatalities from the storms," Bandy added.
In addition, the Weather Service warns that strong southerly winds ahead of the front and very strong westerly winds behind the front will lead to very dangerous boating conditions. A gale warning has been issued for all waters through this evening and into Thursday night for the coastal waters south of Oregon Inlet.
Also, a wind advisory has been issued for all of eastern North Carolina from 1 p.m. until 10 p.m. for winds that could gust around 45 mph.
And, finally, a high surf advisory has been issued for south-facing beaches south of Cape Hatteras from 10 a.m. this morning until 7 a.m. Thursday morning. Beach erosion and minor ocean overwash will be possible at times of high tide, especially the high tide at about 9 p.m. this evening.
A minimal storm surge of only about a foot is expected on the soundside of Hatteras and Ocracoke islands, peaking Thursday as strong westerly winds increase.
For updated forecasts and more information, go to the NWS website at www.weather.gov/mhx or the Newport/Morehead City Facebook Page.
Click here to see a presentation by the National Weather Service on the severe threat this afternoon and evening.