Duke Energy changes focus of Coastal Wind Demonstration Project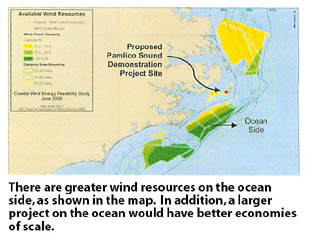 By CATHERINE KOZAK
By CATHERINE KOZAK
Wind turbines will not be on the horizon any time soon off Hatteras Island, but there could be a wind energy project to the south with an Outer Banks name.
Last week, right after Duke Energy Carolinas made a surprise announcement that it was not going to pursue a wind demonstration project in Pamlico Sound, Apex Wind Energy Inc. of Charlottesville, Va., announced that it had applied for 24 lease units in 216 square miles off Morehead City to explore wind production.
The proposal, the first federal application for a wind farm in North Carolina's offshore waters, will be known as the "Outer Banks Ocean Energy" project, or OBOE for short, said John Bane, professor and director of graduate studies in the department of marine sciences at the University of North Carolina-Chapel Hill.
Bane said that Apex purchased the Pinehurst, N.C.-based Outer Banks Ocean Energy Corporation last month, but wants to retain the name for the project, partly because everyone likes the acronym.
An advisor to Apex, Bane said that it was a coincidence that the Duke and Apex announcements nearly coincided.
Before OBOE was sold, according to its website, the company had planned to target a wind corridor off the tip of the Outer Banks, which was expected to provide up to 3.8 megawatts of power generation per turbine.
By comparison, Duke's now-axed project off Buxton would have generated about 3 to 15 megawatts of power, depending on the type of turbine installed.
Jason Walls, a Duke spokesman, said that the energy company decided about a month ago to pull the plug on the Pamlico project after it saw that it would cost about $116 million, more than three times the $35 million estimate provided by UNC, its partner in the project.
The demonstration project had planned to site three turbines in the sound. When it was initially proposed last year, Duke said the project could be learning tool in the development of larger offshore projects.
"What was really driving the overall decision here is that the cost of the project exceeded the benefits to the consumer," Walls said. "What we know now is it's not economically possible to do a small-scale project.
"For the project to be really economically viable, you need to be able to spread the cost of the project over a larger number of turbines," he added.
Duke had invested about 20,000 man-hours of work and about $3.6 million, Walls said, including costs for a soon-to-be completed study of birds. The company has since agreed to pay an additional $400,000 for UNC to do a more comprehensive study of ocean wind resources off North Carolina.
For now, he said, Duke is not interested in development of commercial wind facilities off the coast.
"That's not our next step," Walls said. "We don't have any plans to do that right now."
But Duke is looking forward to seeing the results of the wind study when it's completed, and an offshore facility may be more feasible in the future, Walls said. There is also the potential of Duke just purchasing power from Apex or other wind energy developers.
In general, North Carolina has excellent wind resources, Bane said. The earlier UNC wind study used in the Pamlico project showed that winds off Hatteras were at the top range for power.
Apex is targeting the offshore area between Cape Lookout and Cape Fear, about 31 miles from Wrightsville Beach, Bane said, because it appears to have few potential military, recreational, or environmental conflicts, is reasonably close to shore, and has a good water depth, about 100 feet.
The July 14 application to the federal Bureau of Ocean Energy Management, Regulation and Enforcement — the replacement for the controversial Minerals Management Service – is just a baby step in what could be a many-year process, said Apex spokesman Karlis Povisils.
"This is very, very speculative," he said.
Apex is proposing to install between 120-150 turbines, each generating about 3.6 megawatts of power. Power would be transmitted to an offshore platform, where an undersea cable would then transmit the power to an onshore site.
Doug Huggett, major permits coordinator for the state Division of Coastal Management, said that the state has already implemented new rules to address the location of the transmission lines and the environmental impacts of wind power generation.
Huggett said that the state supports development of wind power off the coast, but there's a big learning curve.
"I get a lot of calls from people who have questions about wind energy," he said. "It is a very hot topic right now. We're learning as we go along, too"
Povisils said that Apex is hoping that North Carolina continues to encourage more companies to develop wind power off its coast, which would encourage more equipment manufacturers to come to the state — which translates to jobs.
"They need to see that there's a market here," he said.  "Every project makes a potential sales opportunity for the manufacturer."
(Catherine Kozak, a former reporter for The Virginian-Pilot in the Nags Head office, is now a freelance writer for The Island Free Press and other publications.)
By IRENE NOLAN
By IRENE NOLAN
Duke Energy Carolinas will no longer pursue a plan to place up to three demonstration wind turbines in the Pamlico Sound.
Instead, the company and the University of North Carolina at Chapel Hill will refocus their collaboration to study and help enable large-scale offshore wind development on the oceanside of the North Carolina coast.
Duke Energy announced the news today at a hastily called luncheon meeting in Buxton that was followed by a media release.
According to the release, in-depth analysis and engineering have been conducted since the project was announced in September, 2009. Duke Energy concluded that the fixed costs associated with permitting, design, and construction of the small-scale coastal wind demonstration project were no longer economically viable.
"As the team tackled this first-of-its-kind project, we realized that encouraging large-scale development of offshore wind resources is a better approach than enabling small demonstration projects that lack economies of scale," said Paul Newton, senior vice president of strategy for Duke Energy's franchised businesses. "The cost of the project simply exceeds the benefits our customers would receive if we were to continue."
"The community," Newton added, "was not getting enough benefit to justify the construction of the proposed wind turbines."
The relatively high fixed cost of developing, permitting and installing the first turbine makes a small demonstration project much less cost-effective than a large-scale project. For example, the Duke Energy team determined the cost of the first turbine to be $88 million, while the second turbine would cost $14 million.
Additional challenges included the need to use modified shallow water construction techniques and a greater than expected potential of disturbing underwater vegetation.
"The work completed on this project was successful in showing that North Carolina is well positioned to develop offshore wind generation, and we encourage state lawmakers to consider legislation to enable affordable large-scale wind generation off the coast," Newton added.
"If we want North Carolina to become a leader in wind energy, we must go where the wind is and that's offshore," said Sen. Marc Basnight, president pro tempore of the state senate who represents Dare County.  "As a state government, we support this effort, but also understand that if the private sector is bearing the costs of developing wind energy, it must be economically feasible."
"I am pleased that Duke Energy is retooling their focus and moving forward with additional study of offshore wind as a commercial power source of the future," Basnight added.
Duke Energy will fund the completion of UNC-Chapel Hill's yearlong study of bird populations begun through the coastal wind demonstration project.
In addition, Duke Energy will provide $405,000 for the university's coastal wind oceanside study, which began with a review of available historical data as part of a feasibility study requested by the North Carolina General Assembly.
"These research efforts will bring North Carolina a step closer to making large-scale wind power generation a reality off its coast," Duke Energy said in the media release.
"My colleagues and I are grateful to be able to continue important research that will advance our knowledge of birds along the coast and refine offshore wind resource assessments, where we agree there is great potential for wind energy development," said Dr. Harvey Seim, professor of marine sciences at UNC-Chapel Hill. "Duke Energy's commitment to the ocean-side studies, together with funding from other partners, will enable us to identify and assess the areas with the highest potential for successful wind power generation."
Donna L. Robichand, the project manager, indicated that the ocean-based project is currently envisioned for 8 to 12 miles offshore, probably south and east of Hatteras Inlet.
In September 2009, the university and Duke Energy Carolinas signed a contract to place up to three demonstration wind turbines in the Pamlico Sound. The purpose of the pilot project was to study the potential for coastal wind generation off the coast of North Carolina.
The project was announced with much fanfare at a public meeting at Cape Hatteras Secondary School in Buxton.  The featured speaker was Gov. Beverly Perdue, along with Duke Energy and UNC officials.
Under that contract, the company would pay for the turbines and their installation, while UNC-Chapel Hill would conduct research on wind resources, ecological impacts and synergies, and initiate engineering studies of structural integrity during hurricanes.
The turbines would have been among the first placed in waters off the U.S. coast.
FOR MORE INFORMATION
For related articles, click on these links:
http://islandfreepress.org/2009Archives/09.28.2009-StateOfficialsMeetWithResidentsToDiscussWindEnergyProposal.html
http://islandfreepress.org/2010Archives/03.22.2010-GuestColumnAReportOnThePublicMeetingOnWindTurbineProject.html
(Tom Hranicka, Island Free Press columnist, also contributed to this article.)
Subject
Name
(required, will not be published)
(required, will not be published)
City :
State :
Your Comments:
May be posted on the Letters to the Editor page at the discretion of the editor.
May be posted on the Letters to the Editor page at the discretion of the editor.
May be posted on the Letters to the Editor page at the discretion of the editor.
May be posted on the Letters to the Editor page at the discretion of the editor.