Another round of overwash reported with Tuesday afternoon's high tide; N.C. 12 to remain closed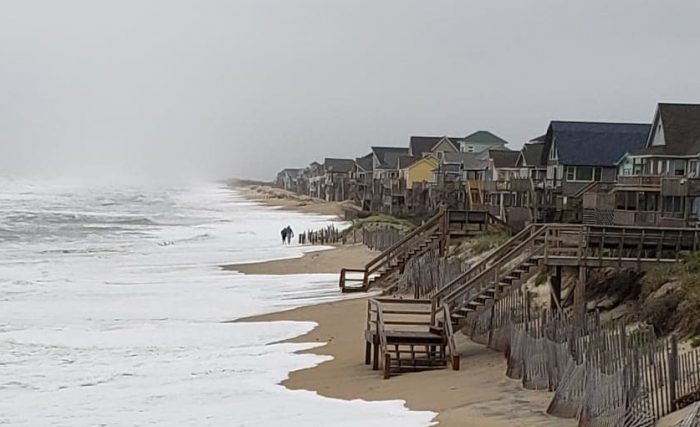 Another round of ocean overwash was reported with Tuesday afternoon's 3:30 p.m. high tide on multiple stretches of N.C. Highway 12, including northern Buxton, in Avon near Ocean View Drive, in the S-Curves/Mirlo Beach area of northern Rodanthe, and on Pea Island.
The public is advised to avoid driving through these areas, as standing water and sand remain on the roadway, and saltwater can severely damage vehicles.
Per a 1:00 p.m. update from the North Carolina Department of Transportation (NCDOT), N.C. Highway 12 will remain closed between Rodanthe and Oregon Inlet for the remainder of Tuesday. This section of the highway closed on early Tuesday morning due to excessive flooding on Pea Island.
"A stationary low pressure system has brought strong winds and large waves to the Outer Banks for the last three days. As a result, N.C. Highway 12 is covered with sand and deep ocean overwash at the Pea Island Visitor Center and at the S-Curves just north of Rodanthe," stated the NCDOT in an update.
"N.C. Department of Transportation crews spent the morning and much of the afternoon trying to clear the roadway and build a protective berm to prevent the road from being undermined. As conditions allow, crews will continue to clear the road tomorrow so it can be reopened to traffic as soon as possible."
Additional overwash is possible on Wednesday, starting with the next high tide at roughly 4:00 a.m. on Wednesday morning.
Ferry service for all Ocracoke Island routes is still suspended as of Tuesday afternoon due to high winds.
The low pressure system will continue to linger off the Outer Banks through at least Wednesday, with maximum wind gusts of 45-50 mph, and a Coastal Flood Warning remains in effect through early Thursday morning.
Along the soundside, 1-3 feet of flooding is still possible for low-lying areas until early Thursday, particularly for Ocracoke Island and southern Hatteras Island. Minor soundside flooding was reported in Hatteras Village and Ocracoke Village on Tuesday morning, and water levels were rising along Eagle Pass Road in Hatteras Village as of 4:15 p.m. on Tuesday afternoon.
Earlier on Tuesday, two homes collapsed within a 12-hour period along Ocean Drive in Rodanthe. The Ocean Drive area, (just south of the Rodanthe Pier), has been closed in order to protect the public from hazards associated with the collapsed homes. Visitors should use caution when on the beach in between the villages of Rodanthe and Salvo, as debris will likely spread throughout the next few days.
For more information on the local forecast, visit www.weather.gov/mhx for weather information, or the National Weather Service office in Newport / Morehead City's Facebook page at https://www.facebook.com/NWSMoreheadCity/.