Avoid travel on N.C. Highway 12; Flash Flood Warning extended to midday Thursday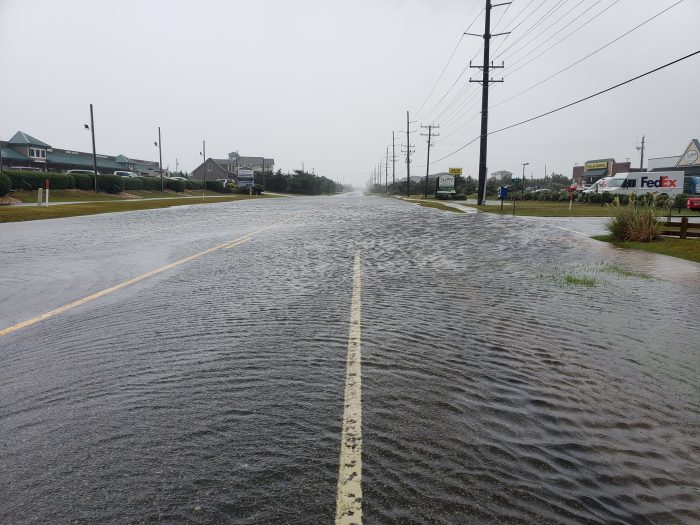 Flooding on N.C. Highway 12 was reported as of 10:00 a.m. on Thursday by multiple agencies due to heavy rainfall and minor ocean overwash, and any unnecessary travel should be avoided as Idalia continues to impact the Outer Banks coastline.
The Cape Hatteras National Seashore (CHNS) stated in a social media update that flooding was reported between the villages of Frisco and Hatteras, with standing water across both lanes of the highway.
Hazardous conditions also exist between the Basnight Bridge and Pea Island Visitor Center, through the Tri-villages, and along the northern boundary of Buxton. Travel to the north end of Ocracoke Island is unnecessary as ferry service is currently suspended.
A Flash Flood Warning is in effect for the Outer Banks until 12:45 p.m. on Thursday, in addition to an ongoing Coastal Flood Warning and Tropical Storm Warning.
Between 2 and 7 inches of rain have fallen on the Outer Banks as of Thursday morning, (with more than six inches of rain recorded in Hatteras village and Avon per several reports), and additional rainfall amounts of 3 to 6 inches are possible in the warning area.
Additional ocean overwash is also possible with this evening's high tide at approximately 8:30 p.m. Oceanside/soundside flooding is expected to peak this afternoon through Friday, with 2-3 feet of inundation along the oceanside possible, and 1-3 feet of inundation along the soundside possible, particularly from Buxton to Ocracoke.
All Hatteras-Ocracoke ferry operations continue to remain suspended due to Idalia. Passengers can receive real-time text or email alerts from their preferred routes by signing up for the Ferry Information Notification System (FINS) at www.ncdot.gov/fins. System-wide route status updates will also be posted on the Ferry Division's Twitter and Facebook​ pages.
Rodanthe on midday Thursday. Video by Don Bowers.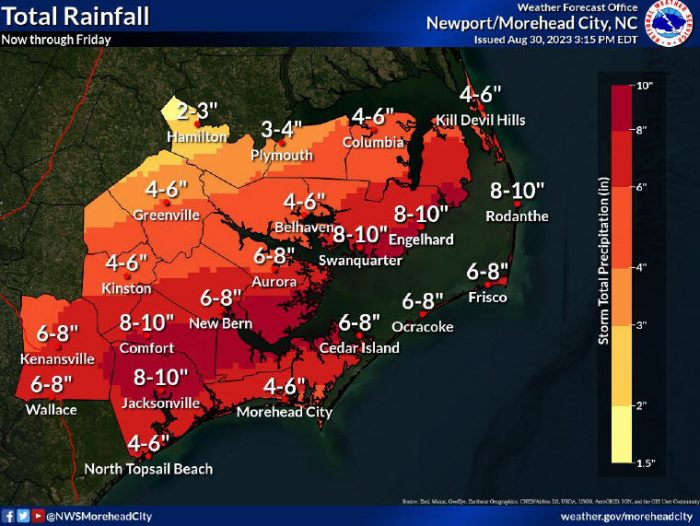 Rainfall and ocean hazards remain the leading threats from Idalia, with 5-10 inches of rain forecast for Wednesday through Friday. Within the heaviest bands of rain, isolated totals of up to 15" of rain are also possible.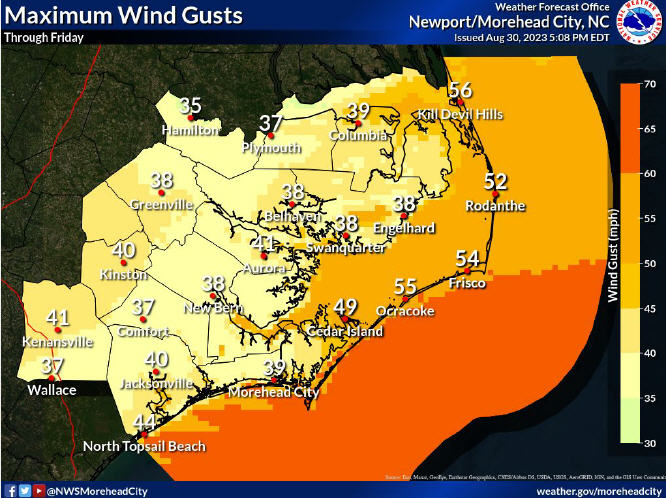 Increasing winds should peak at 35-45 mph with gusts of up to 55 mph on Thursday, August 31, and winds will diminish slowly on Friday, September 1.
Remember that the forecast for Hurricane Idalia will continue to be refined, and the public can check for updates on the NWS Newport/Morehead office's website at weather.gov/mhx/tropical.