Avon Beach Nourishment, the Future of N.C. 12, and New Dredge Highlighted in State of the County 2021 Presentation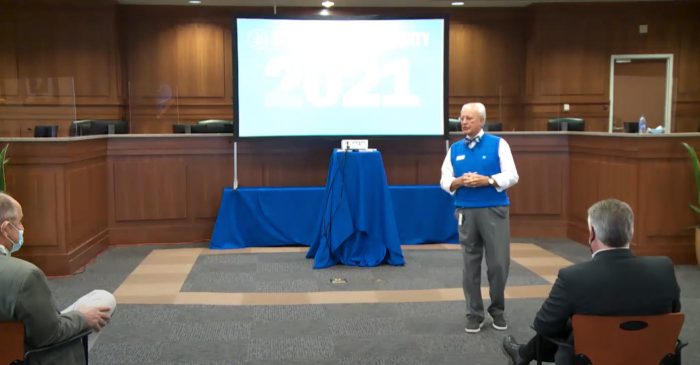 Dare County Board of Commissioners (BOC) Chairman Bob Woodard summarized the highlights of an otherwise bleak 2020, and touched on projects that the county is focused on in the months to come, in the annual State of the County presentation on January 27.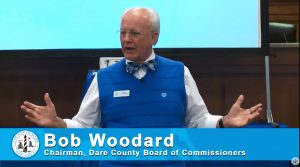 Held virtually with just a handful of Dare County Commissioners in attendance, Woodard started by acknowledging the unique setting, which was a drastic departure from previous years' in-person events.
"Boy, what a difference a year makes," said Woodard. "Last year's event was a breakfast… and that was packed out. But, unfortunately, we have to do [the presentation] this year virtually. Hopefully, next year, we'll be back on track."
Woodard started the county's annual year-in-review by discussing the Coronavirus pandemic, and the impact on the local community. "We have to acknowledge 2020 and the coronavirus pandemic," he said. "None of us will ever forget that, and none of us wants to go back to 2020 again."
"Last year was [Dare County's] 150th anniversary… and boy, we had a lot of things planned, and unfortunately, we couldn't do any of them."
With the introduction of a vaccine, however, Woodard did note that the future looked brighter, noting that vaccinations started in Dare County on January 6, and as of January 27, the county has administered a total of 4,600 vaccines. "We were told that we should do about 1,100 more today, as well," he added.
Woodard also touched on the challenges that impacted the Dare County community, and the ways that businesses, restaurants, and residents changed their routines to help neighbors, and to stay afloat.
"I couldn't be more proud of the way our community has responded to COVID-19," said Woodard, thanking frontline healthcare employees, first responders, non-profit organizations, and Health Department employees.
"2020 is behind us, and here in Dare County, we're looking forward to much better and brighter days ahead of us in 2021. I'm excited about it, especially for what we have on the horizon."
From there, Woodard outlined a list of projects and accomplishments by the BOC and the county in 2020, which included a number of projects that will continue to progress in the year ahead.
Highlights of Dare County projects, both past and future, include the following.
Beach Nourishment Projects for Buxton and Avon
Upcoming beach nourishment maintenance projects in 2022 are slated for Buxton, Duck, Kitty Hawk, and Kill Devil Hills, (which have all had previous nourishment projects completed), and Woodard announced that the Board was working diligently to fund two upcoming new projects in Avon and Southern Shores in 2022 as well.
"We're in the process of finalizing a funding plan that will hopefully enable both Avon and Southern Shores to move forward with a beach nourishment project in 2022," said Woodard, noting that the BOC has already begun working with Coastal Science and Engineering (CSC) – the firm responsible for the Buxton and other Outer Banks nourishment projects – to begin the preliminary planning.
"We're trying to meet this 2022 deadline. The Board agreed to contract with CSC to have work done if and when we are ready… We feel like we can do a project, but we need to reach out to our folks in Avon… as they also have skin in the game."
Woodard noted that a meeting was being planned with Avon residents sometime in late February to discuss the project further.
New Task Force Formed to Address N.C. Highway 12
"Last year was an extremely active hurricane season, and we were fortunate that we only had one direct hit in early August… but it was two storms that didn't hit us directly that did the most damage – Hurricane Teddy and the remnants of Hurricane Sally," said Woodard, adding that the two September storms subsequently closed N.C. Highway 12 for days.
Noting that the North Carolina Department of Transportation (NCDOT) has been instrumental in continually clearing and reopening the highway, Woodard announced that a new task force has been formed to find long-term solutions for protecting and maintaining N.C. Highway 12.
"We want to continue to protect Highway 12, and we have created a task force that will address the ongoing issues, so that we can have a long-term plan in place," he said. The task force includes Woodard, County Manager Bobby Outten, David Hallac from the National Park Service, representatives from the NCDOT, Hyde County representatives, and a number of additional stakeholders.
"We're going to work to develop a long-term plan for Highway 12 so we can ensure that the island can remain accessible at all times."
New Dredge Under Construction
Woodard also discussed the progress on a new shallow draft dredge that is currently being constructed in Louisiana, and which is scheduled to be delivered to the county in April of 2022. The new vessel will be able to perform dredging operations in both Oregon Inlet and Hatteras Inlet, which is susceptible to extreme shoaling and navigational issues.
"As everyone in the county knows, open waterways are critical to our residents and visitors," said Woodard. "Our waterways serve as a highway for our fishermen to go to work. It's critical for our economy for them to be able to navigate these channels."
The BOC also contracted a study to identify suitable and permissible areas for dredge materials to be placed for the next 20 years. "That way, we will know in advance where sand can be placed [in] dredging operations," said Woodard.
 Affordable Housing Initiatives
The BOC has been working on providing more affordable housing for county residents for years, and the endeavors took a big step forward in recent months via a partnership with the UNC School of Government. The ensuing Development Finance Initiative (DFI) has worked to find suitable sites where affordable housing could be built, including a site in Manteo owned by the county where a total of sixty 1-2 bedroom units could be built. The Board voted in October to move forward with the next steps, including hiring an architect to develop conception plans for the eventual project.
Early Childcare Education
The BOC, led by Commissioners Couch, Ross, and Overman, also spearheaded a movement to pursue more funds and better access to early childhood education for Dare County residents, which has been a growing problem in the era of the COVID-19 pandemic.
The recent initiative led to an early childhood education and child care assistance grant of $350,000 to help allow educators and childcare providers the ability to continue to provide care during the Coronavirus crisis.
Moody's Upgrade to Dare County's Issuer Bond Rating
Moody's Investors Service upgraded Dare County's issuer bond rating from Aa2 to Aa1, per a recent announcement at the Board's Jan. 19 meeting, which was also highlighted at the State of the County presentation.
A rating of Aa1 is only one step below AAA, the highest rating that can be assigned to an issuer's bonds by any major credit rating agency.
"Folks, this is phenomenal," said Woodard. "This is important, because it helps our bond rating, and helps our county borrow money at a better rate when we need to fund big [budget] projects. This will save the county almost one million dollars in interest over the life of the loan."
New Animal Shelter
Woodard also provided overviews of a number of county projects, including the county's new animal shelter, which is currently under construction in Manteo. A ribbon-cutting ceremony is scheduled for March 19, and the shelter is slated to open in July of 2021.
"If you've ever visited our current shelter in Manteo, you know the homeless animals and the staff who take care of them are in desperate, desperate need of an upgrade," said Woodard. "The current facility is overcrowded and prone to flooding… We're looking forward to the day where we can transfer our homeless animals to a new facility, and invite our citizens to come visit."
New COA facilities
Another big project in the works that was covered at the presentation was the new College of the Albemarle campus, which will also be a project that continues into 2021.
"We broke ground in December on the construction of a two-story, modern building, [and we're] getting ready to start construction next month," said Woodard. "Once construction is completed, our students will have the opportunity to attend college at a state of the art facility right here in Dare County, without travelling to Elizabeth City or other [larger communities.]"
It was also noted that the Dare County BOC also awarded $350,000 in scholarships to a total of 101 graduating seniors.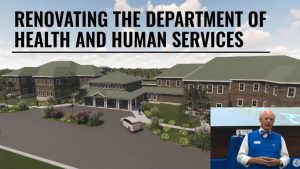 Dare County Health and Human Services Renovation
The Dare County Department of Health and Human Services is also undergoing a renovation, with a 6,500 square foot addition that will connect the two buildings, and will serve as the main entrance and lobby for the department.
New Manteo Facilities
Two additional projects that are in the works include the new Manteo Town Commons, which is a combination of additional downtown parking and added greenspace, as well as a new courtyard for the Dare County Arts Council. The courtyard will allow the Arts Council to expand their programs and showcase a much broader range of creative endeavors, including outdoor artworks, live music, workshops, and more. "If you haven't been down there, it's under construction now, and they are really making some progress," said Woodard.
Offshore Drilling and Seismic Testing
Woodard also noted that "in 2020, our Board once again passed a resolution reaffirming our opposition to offshore drilling and seismic testing… It protects our local economy, our beaches, and our waterways from potential devastation."
The state of North Carolina was also recently N.C. added to a 10-year moratorium that prohibits leases for offshore drilling from July 1, 2022, to June 30, 2032.
Woodard completed the presentation by thanking various members of the community who assisted with all of the above projects and beyond, once again acknowledging the impacts of the COVID-19 pandemic, and by looking ahead to the future of Dare County.
"In times of crisis, the Dare County community never fails to come together and rise above the challenge," he said.
"[We're] still going strong, despite all the struggles we've faced in the previous year."
The complete State of the County presentation is available online, and can be viewed anytime at https://www.youtube.com/watch?v=wm_n8Vm8Dv8&feature=youtu.be.