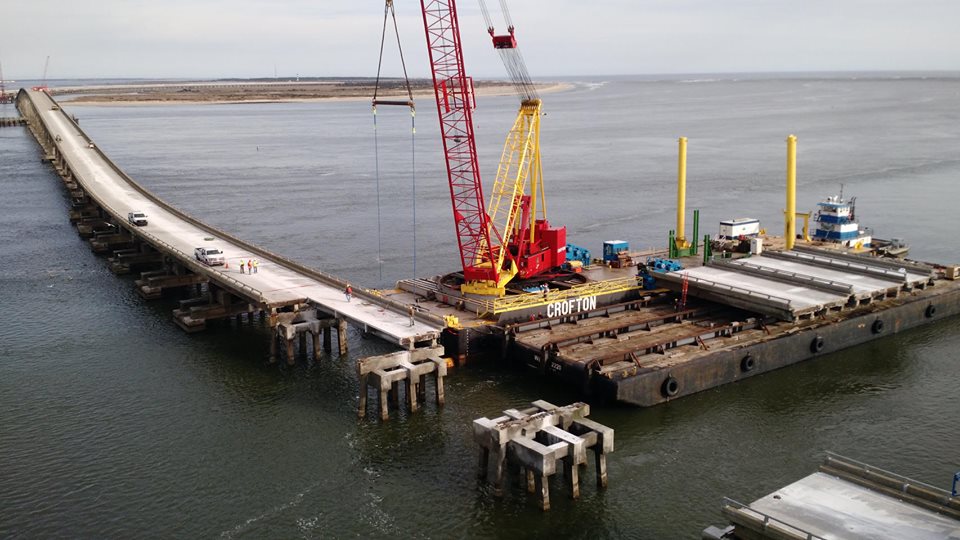 During the Ribbon Cutting Ceremony for the new bridge on April 2, crews were already hard at work removing the spans of the old Bonner Bridge in a demolition project that is currently scheduled to be completed by late 2019 / early 2020.
The discarded bridge material is being removed by cranes, and is being transported through Oregon Inlet by barge in order for the debris to bolster artificial reef sites near the inlet.  Currently, the barges cannot get through the old Bonner Bridge at the main span due to shoaling, however the ocean bar of Oregon Inlet is passible for the barges to travel offshore.
As of Friday, April 5, the decking had already been removed from three spans, towards the southern end of the bridge, Per NCDOT Public Relations Officer Tim Haas.
The next step at this span range is to remove the caps and piling. This imminent work will create an opening in the old Bonner Bridge at deeper water, away from the shoaling in Oregon Inlet, allowing the barges to move from either side of the bridges to collect material.
Once the bridge is removed at the current three-span site, the demolition operations will shift as far north as the water depths and shoaling allow. Deck removal and piling removal will continue to progress via two crane barges working from north to south, with one crane removing the decking while the other crane removes the caps and pilings.
The removal operations for the current spans could be completed in the next 30 days, while the other marine-based demolition operations will take place over the next 8 to 10 months.
"At this time, the target for completing the demolition is end of 2019 or early 2020," said Haas.
Not all of the Bonner Bridge will disappear from the landscape, however. 1,000 feet of the bridge on the southern end, (close to the existing pedestrian bridge), will remain standing to serve as a fishing pier and a pedestrian walkway for visitors. This stretch of the old bridge will also retain the "Bonner" name, while the new bridge was recently named after former State Senator Marc Basnight.
The current pedestrian bridge at the old Bonner Bridge is closed to the public while the demolition project progresses.