Cahoon reelected Coastal Resources Commission chair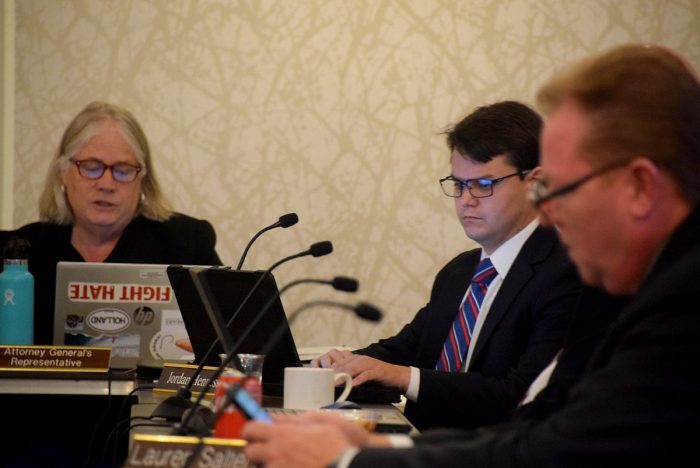 This story is part of a new reporting partnership with The Outer Banks Voice.
Newly appointed members took seats for their first Coastal Resources Commission meeting here Thursday – also the first since state lawmakers changed the rules regarding its makeup — and four members promptly and unsuccessfully attempted to replace Chair Renee Cahoon.
The board, along with the Environmental Management Commission, was one of the state regulatory commissions that a three-judge panel deciding Gov. Roy Cooper's legal challenge to Senate Bill 512 on Nov. 1 allowed to proceed with new appointments that the law took away from the governor. The superior court judges gave Cooper a partial victory but did not rule on appointments to the North Carolina Wildlife Resources Commission or the state Building Council.
The 7-4 vote to reinstate Cahoon, whom Cooper had appointed as chair when that was still state law, came after new commission member Jordan Hennessy's motion to delay a vote on the chair until after the entire board had been seated. Members Larry Baldwin, James Yates and Robert High joined Hennessy in opposing Cahoon.
Mary Lucasse, the commission's legal counsel, halted that move, saying that a quorum being present was all the authority needed to proceed with the election and other business on the agenda.
Hennessy told Coastal Review during a break in the meeting that his desire to delay election of a chair was because other new appointees were absent.
"We have two new commissioners that were just appointed along with myself who weren't here, and they asked for a virtual connection to this meeting and that wasn't provided. I feel like that when 15% of our commission who are new appointees are not able to be here that they should be able to have a say in their leadership position," Hennessy said.
The commission sets policies for the North Carolina Coastal Management Program and adopts rules for the state's Coastal Area Management Act and the Dredge and Fill Act.
Cooper had vetoed the bill that stripped the governor's appointment powers Aug.24, but the GOP-controlled legislature overrode that veto Oct. 10. Cooper immediately challenged the measure's constitutionality in court.
Previously, the governor appointed nine members but the new law took away three, gave the North Carolina General Assembly two additional appointments for a total of six, and gave the state insurance commissioner one.
Hennessy, a former aide to then-Sen. Bill Cook, R-Beaufort, and a CEO/managing partner with EJE Dredging Service, was Insurance Commissioner Mike Causey's appointee.

Hennessy told Coastal Review that he looked forward to being of service to the commission. Asked about his relevant coastal management expertise, he said he had "various different experiences of working with local governments on various different projects." He noted his six years working in the General Assembly, an Outer Banks dredging project and some real estate projects.
Cahoon, during a lunch break, told Coastal Review that she was honored by the commissioners who supported her in the vote. But she declined to comment on those who didn't. Cahoon said building consensus was the biggest challenge she expected in her renewed role as chair.
"Blending the board, in terms of getting everybody working together," she said. "It's important to make sure everybody's had their orientations and understand the CAMA program and that we're here for the people of the coastal North Carolina and trying to protect the coast of North Carolina while being still fair to all the property owners."
Cahoon said she was optimistic that regardless the outcome of any future legal challenges, "I think we'll all be fine. We all just have to learn to know each other."