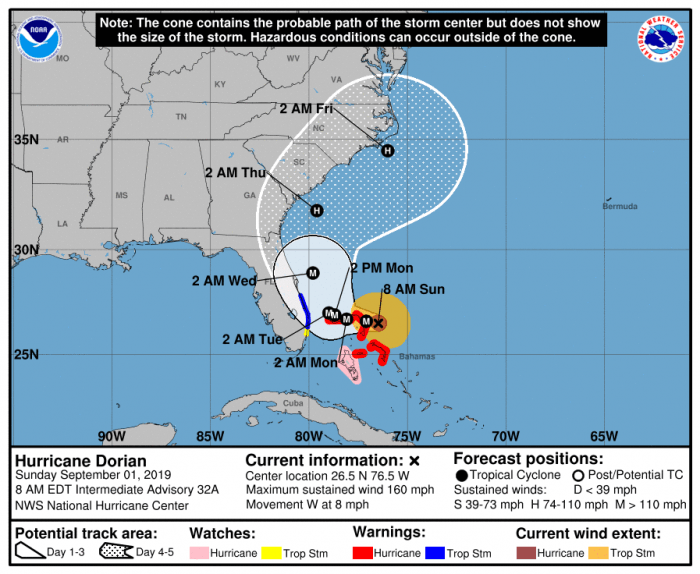 With recent trends indicating a northern turn up the East Coast midweek, the odds have increased for the Outer Banks area to see direct impacts Wednesday through Friday, per a Sunday morning update from the National Weather Service Newport / Morehead City Office.
The threat for a prolonged period of heavy rainfall across eastern North Carolina is increasing, regardless of the track, with up to 6-10 inches of rain currently forecast for Hatteras and Ocracoke islands. Locally, most rain will occur Wednesday through Thursday night.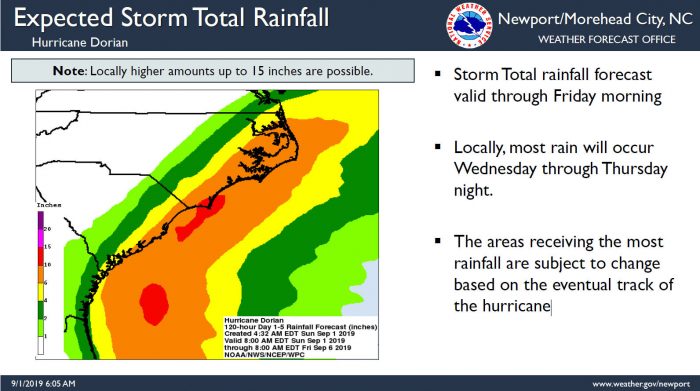 The threat for tropical storm-force winds has increased across the entire Eastern N.C. area over the last 24 hours, although the threat for hurricane-force winds locally has increased only slightly. Tropical storm-force winds may arrive sometime Wednesday.
Conversely, while the probability of tropical storm-force winds has increased, details on the wind and storm surge threats remain uncertain and highly track-dependent.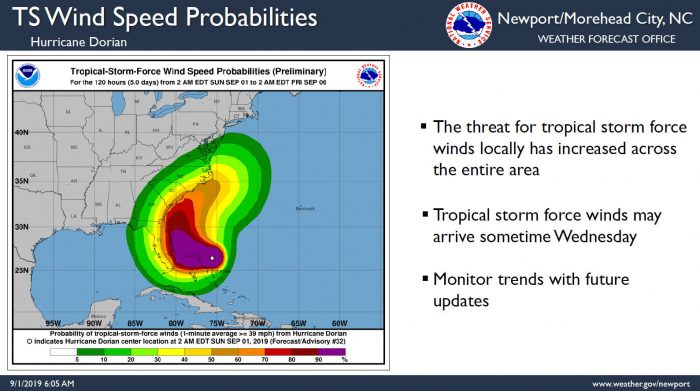 An enhanced threat of rip currents is in effect and is expected to remain in effect all week.
As of 8:00 a.m. on Sunday, the distinct eye of Hurricane Dorian was located near latitude 26.5 North, longitude 76.5 West.  Dorian is moving toward the west near 8 mph, and a slower westward motion should occur for the next day or two, followed by a gradual turn toward the northwest.  On this track, the core of extremely dangerous Hurricane Dorian should be moving over Great Abaco soon, and continue near or over Grand Bahama Island later tonight and Monday. The hurricane should move closer to the Florida east coast late Monday through Tuesday night.
Data from an Air Force Hurricane Hunter plane, which just penetrated the eye of Dorian, indicate that the maximum sustained winds have increased to near 175 mph with higher gusts.  Dorian is now a category 5 hurricane on the Saffir-Simpson Hurricane Wind Scale. Some fluctuations in intensity are likely, but Dorian is expected to remain a powerful hurricane during the next few days.
Hyde County reminds any Ocracoke residents that still need re-entry passes that they can come to the community center on Monday 9 a.m. to noon.  Residents are advised to bring any applicable documents along.
Governor Roy Cooper declared a state of emergency for North Carolina on Friday in anticipation of Hurricane Dorian, allowing the state's price gouging law to go into effect, and to prepare the state to provide relief measures in the future should they be needed.
For more information on the local forecast, visit www.weather.gov/mhx for weather information, or the National Weather Service office in Newport / Morehead City's Facebook page at https://www.facebook.com/NWSMoreheadCity/.