Coastal Flood Advisory, High Surf Advisory issued for the Outer Banks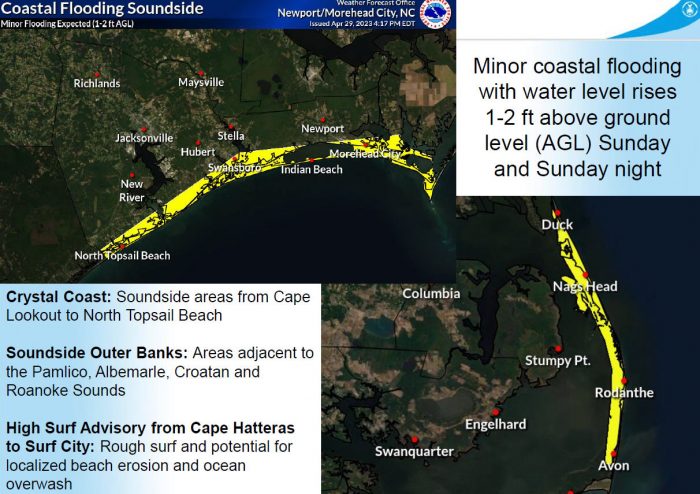 A Coastal Flood Advisory and High Surf Advisory are in effect for the Outer Banks from 11:00 a.m. Sunday through early Monday morning, per an update from the National Weather Service.
Large breaking waves of 6-9 feet, dangerous rip currents, and strong longshore currents are expected in the surf zone through Sunday. For the Coastal Flood Advisory, 1 to 2 feet of inundation above ground level is expected in soundside low-lying areas through Sunday night.
Southwest winds of 20-30 mph with gusts up to 50 mph are expected to continue throughout Sunday, and a High Wind Advisory is in effect until 10 p.m. A Gale Warning has also been issued due to high winds and rough waters, and mariners should alter plans to avoid hazardous conditions.
N.C. Highway 12 remained open and passable as of 11:00 a.m. on Sunday, with minor blowing sand and standing rainwater reported.
High winds may impact the Ocracoke-Hatteras ferry operations, and the public can see updates on all three Ocracoke Island routes via the Ferry Division's Twitter accounts at https://twitter.com/NCFerryHatteras/ and https://twitter.com/ncferrypamsound/, or by calling 1-800 BY FERRY for more information.
For more information on the local forecast, visit www.weather.gov/mhx for weather information, or the National Weather Service office in Newport / Morehead City's Facebook page at https://www.facebook.com/NWSMoreheadCity/.