Coastal Flood Warning now in effect for the Outer Banks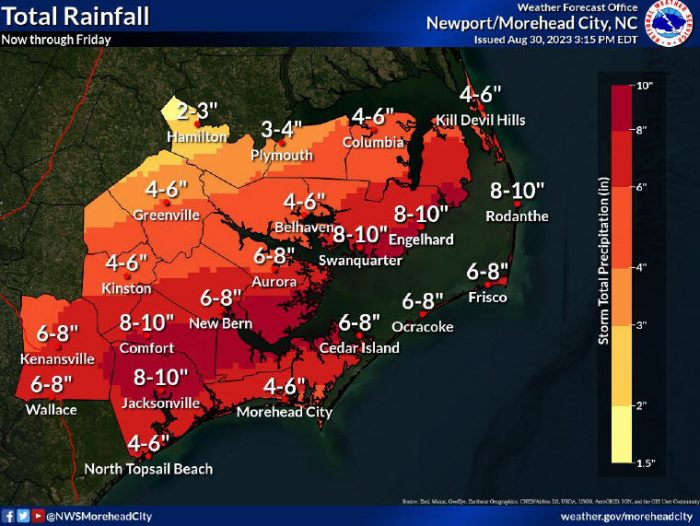 The National Weather Service in Newport/Morehead City, N.C. has issued a Coastal Flood Warning for all areas of the Outer Banks, including Hatteras and Ocracoke islands.
The Tropical Storm Warning that was issued by the National Hurricane Center on the morning of August 30, 2023, remains in effect. A Tropical Storm Warning indicates that tropical storm conditions—including sustained winds of 39 mph to 73 mph—are expected within 36 hours or less.
Travel on N.C. Highway 12 on Hatteras Island may be impacted by ocean overwash, especially during high tides. The next high tide is around 7:30 p.m. on Wednesday.
Those in vulnerable oceanfront homes that have the potential to be surrounded by ocean water due to no existing dune structure should relocate. Actions should also be taken to protect vehicles and property parked or stored in areas that may flood.
Strong winds and rough surf will also result in an increased risk of strong rip currents. Even the most experienced swimmers are advised to stay out of the ocean due to the dangerous surf conditions that are occurring along all Dare County beaches.
Residents and visitors throughout Dare County should expect:
Increasing winds that should peak at 35-45 mph with gusts of up to 55 mph on Thursday, August 31, 2023 and diminish slowly on Friday, September 1, 2023. Actions should be taken now to secure loose property to keep it from becoming a projectile hazard.
4-10 inches of rain, with amounts as high as 15 inches in some areas, could lead to flash flooding and standing water on roadways that may impact travel.
Potential tornado activity. Always have multiple ways to receive weather alerts, especially at night.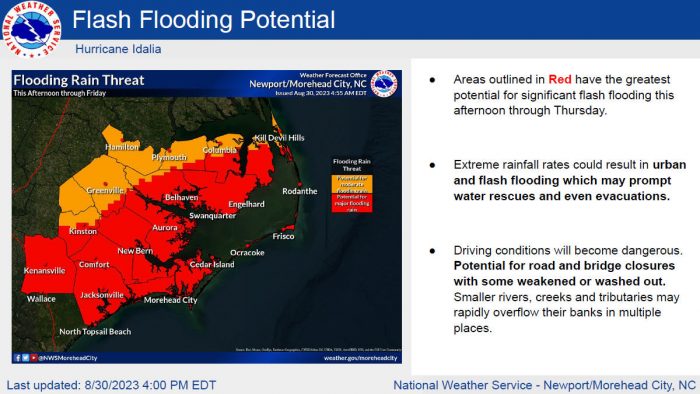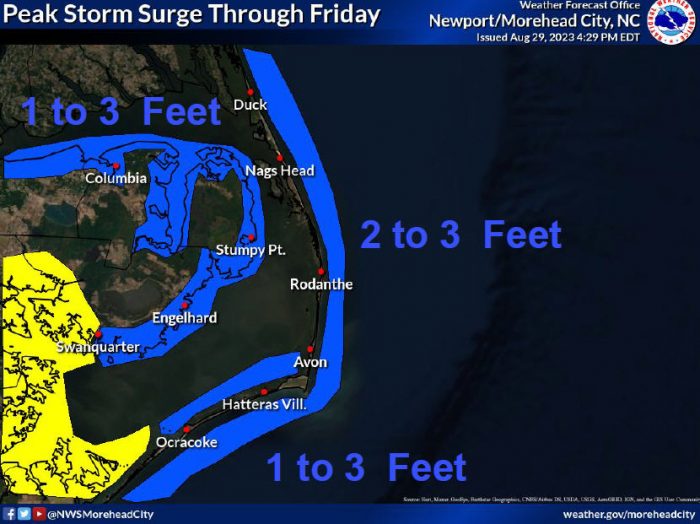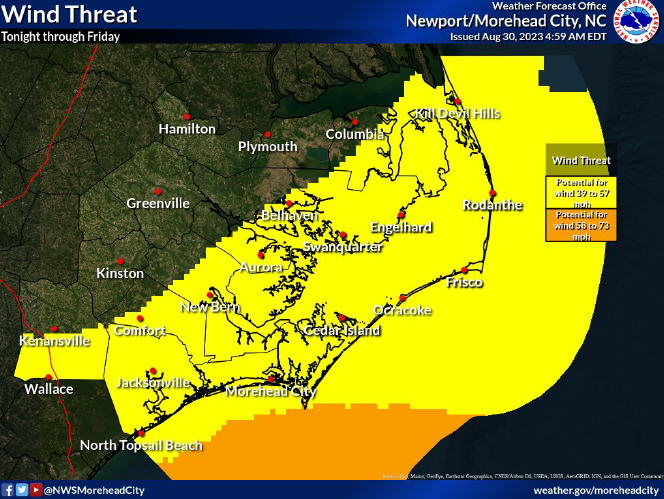 For more details on the forecast for Hurricane Idalia, as well as up-to-date information about the storm, click the links below.