Conditions expected to deteriorate Saturday; Coastal Flood Warning, Storm Warning in effect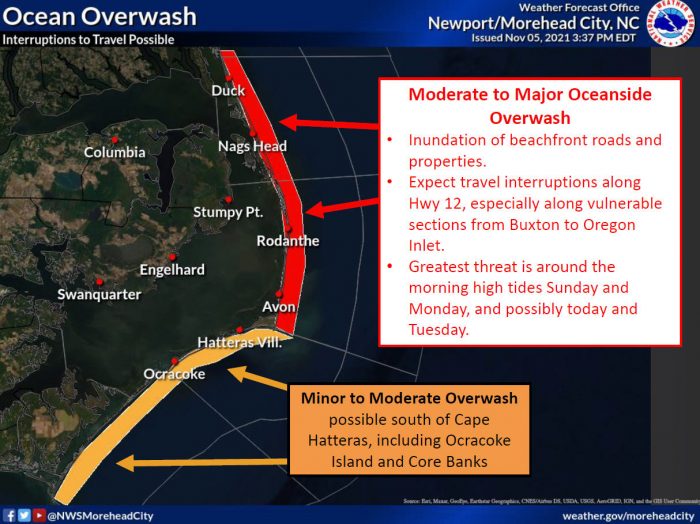 Weather conditions are expected to deteriorate on Saturday, and multiple storm-related warnings have been issued for the Outer Banks, per a Saturday morning update from the National Weather Service Newport / Morehead City office.
Though little has changed in the upcoming forecast, Coastal Flood Watches were upgraded to Warnings overnight, and Storm Warnings were issued for storm-force winds on the coastal waters and Pamlico Sound. Very strong winds, significant coastal flooding, and ocean overwash are expected in the next 48-72 hours, and will linger until Monday at the earliest.
Moderate to major ocean overwash is expected to occur north of Cape Hatteras, and impacts to N.C. Highway 12 are likely, with the highway becoming impassable at times. The greatest threat of ocean overwash is around the morning high tides on Sunday and Monday, (9:00 a.m. and 10:00 a.m., respectively), although overwash is possible on Saturday night and Tuesday as well.
As of noon on Saturday, N.C. Highway 12 remained open and passable throughout, however, some beach erosion had started to occur at hot spots along the islands, and particularly in northern Buxton. Per an update from NCDOT, some standing water and blown sand were also reported on the highway.
15 to 20 ft. waves in the surf zone will lead to dangerous beach conditions and erosion, and soundside flooding is also probable, especially for southern Hatteras Island and Ocracoke Island. Moderate to major inundation with water levels 2-4 feet above ground level is forecast along the soundside from Saturday through Monday morning, with flooding highly likely for low-lying areas immediately adjacent to the Pamlico Sound.
Peak wind gusts of 45-60 mph are forecast on Sunday through Sunday night, and a total of 2-4" inches of rainfall is also expected with the storm. Localized flash flooding is possible in low-lying areas.
For more information on the local forecast, visit www.weather.gov/mhx for general weather information, or the National Weather Service office in Newport / Morehead City's Facebook page at https://www.facebook.com/NWSMoreheadCity/.