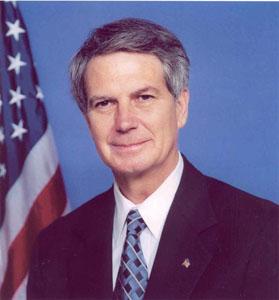 Congressman Walter B. Jones passed away on Sunday afternoon, February 10, after entering hospice care at his Eastern N.C. home in late January.
"After faithfully representing the people of Eastern North Carolina in Congress and the state legislature for over 34 years, Congressman Walter B. Jones (NC-3) passed away this afternoon in Greenville, North Carolina.  He was 76," read a statement on the Congressman's office website.
"Congressman Jones was a man of the people," the statement continues.  "With a kind heart and the courage of his convictions, he dedicated his life to serving his Savior and to standing up for Americans who needed a voice. He was a champion for our men and women in uniform and their families, always mindful of their service and sacrifice."
"Congressman Jones will long be remembered for his honesty, faith and integrity.  He was never afraid to take a principled stand.  He was known for his independence, and widely admired across the political spectrum.  Some may not have agreed with him, but all recognized that he did what he thought was right."
"He will be sorely missed."
Governor Roy Cooper and U.S. Senator Thom Tillis also released statements on the congressman's passing.
"I am grateful for the life and service of my longtime friend Congressman Walter Jones Jr," stated Governor Cooper. "He was a public servant who was true to his convictions and who will be missed."
"Congressman Walter B. Jones, Jr. was the true embodiment of a public servant," stated Senator Tillis. "He will be long remembered for his tireless advocacy for Eastern North Carolina, which he loved dearly, and for always following his convictions, no matter the political cost. He always did what he felt was right for his constituents, his district, and his country, and it was no wonder why he was so widely admired and trusted. It was a true honor to serve with Walter Jones. Susan and I send our deepest condolences to Joe Anne and his loving family."
Jones was born on February 10, 1943, and served as the U.S. Representative for North Carolina's 3rd congressional district.
Jones was first sworn in to the U.S. House of Representatives in 1995, following ten years of service as an elected member of the North Carolina General Assembly.
In 2010, Congressman Jones was named #17 out of 535 on The Hill Newspaper's 25 Hardest Working Lawmakers list. In 2004, a survey of top Capitol Hill staff conducted by Washingtonian Magazine ranked Congressman Jones #1 out of the 435 U.S. House members in the "Just Plain Nice" category. Serving his 12th term in Congress as of 2019, Congressman Jones was also a member of the House Committee on Armed Services.
He was granted a leave of absence on December 11 after an illness prevented him from attending Congressional votes starting in September, 2018.
Rep. Jones has had several health problems over the last few months, and broke his hip on January 14 at his home in Farmville, N.C. He underwent a successful surgery the following day at Vidant Medical Center in Greenville, but was first reported to be in hospice care on January 26.
A primary and special election may be held later in 2019 to fill the vacant seat.