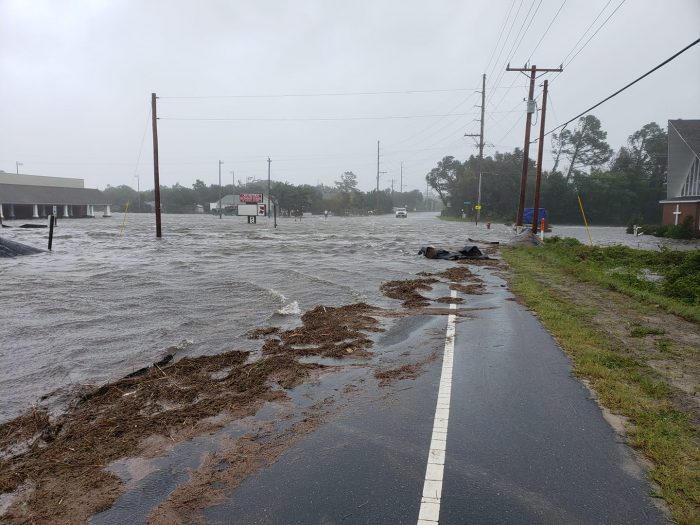 Hurricane Dorian brought catastrophic and record-breaking flooding to Hatteras and Ocracoke islands on Friday morning as the fast-moving storm caused storm surge of approximately 7 feet in Ocracoke and roughly 6 feet on southern Hatteras Island within a timeframe of two hours.
Water levels peaked Friday morning and have been steadily but slowly receding since approximately noon on Friday. However, deep and standing water was reported throughout all villages and on N.C. Highway 12 and adjacent neighborhood roads as of 3:45 p.m. The public can access gauges online to view water levels in real-time at fiman.nc.gov or can download the ReadyNC App and check the Flood Gauge tab.
On Ocracoke Island, officials stated that they are dispatching air transportation units to help evacuate residents that need to leave. Officials are hoping to have the ferry routes evaluated tomorrow, and will continue the evacuation via ferries as soon as possible.
The first air transportation crew from the mainland landed on Ocracoke Island at approximately 2:30 p.m. Commodities and additional personnel are also being dispatched to Ocracoke Island. Per a statement made by Governor Roy Cooper on Friday, as many as 800 people could be on Ocracoke Island.
Hatteras and Ocracoke islands continue to be without power, but Cape Hatteras Electric Cooperative (CHEC) crews are patrolling and accessing the damage caused by Hurricane Dorian as of Friday afternoon. CHEC stated that they have discovered a broken transmission pole between Avon and Salvo which is believed to have caused the island-wide outage that occurred on Friday morning. CHEC also stated they have a 27 man crew from Lee Electrical Construction heading to the island to assist with restoration efforts.
As of 2:00 p.m., Hurricane Dorian was located 125 miles northwest of Cape Hatteras and was continuing to move toward the northeast near 21 mph (34 km/h). This general motion with an additional increase in forward speed is expected through Saturday night. Maximum sustained winds remain near 90 mph (150 km/h) with higher gusts.
The eye of Dorian made landfall over Cape Hatteras at 8:35 a.m. There have been no fatalities reported so far, however, property damage is extensive throughout the islands. N.C. Highway 12 remains impassible for the majority of the route from Oregon Inlet to Hatteras village.
The Island Free Press will continue to post updates as soon as they are available.