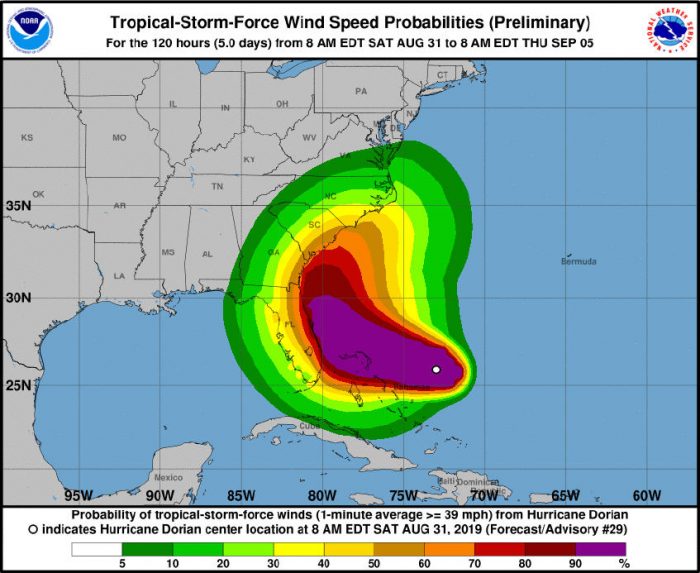 With recent trends indicating a northern turn up the East Coast midweek, impacts from Dorian will be felt this weekend through next week, with an enhanced risk of rip currents beginning in the immediate future, per a Saturday update from the National Weather Service Newport / Morehead City Office.
As of 5:00 p.m. on Saturday, Dorian was moving toward the west near 8 mph with maximum sustained winds near 150 mph, making the storm a Category 4 hurricane. Some fluctuations in intensity are likely, but Dorian is expected to remain a powerful hurricane during the next few days as it potentially approaches the Carolina coastline.
Per the National Hurricane Center, a slower westward motion should continue for the next day or two, followed by a gradual turn toward the northwest. On this track, the core of Dorian should move or be near portions of the northwestern Bahamas on Sunday, and move closer to the Florida east coast late Monday through Tuesday.
Trends have increased significantly for the Outer Banks regarding tropical-storm-force winds, which may occur as early as Wednesday.
In addition, heavy rains later this week are also forecast for the Outer Banks, with up to 6-10 inches of rainfall possible for southern Hatteras Island and Ocracoke Island. Locally, most rain will occur Wednesday through Friday, and a large swell from Dorian will begin to impact the Outer Banks on Sunday, with a high risk for rip currents. The heightened rip current risk and rough surf are forecast to continue through the week
Other specifics in regards to future impacts are too uncertain this far out.
Governor Roy Cooper declared a state of emergency for North Carolina on Friday in anticipation of Hurricane Dorian, allowing the state's price gouging law to go into effect, and to prepare the state to provide relief measures in the future should they be needed.
For more information on the local forecast, visit www.weather.gov/mhx for weather information, or the National Weather Service office in Newport / Morehead City's Facebook page at https://www.facebook.com/NWSMoreheadCity/.