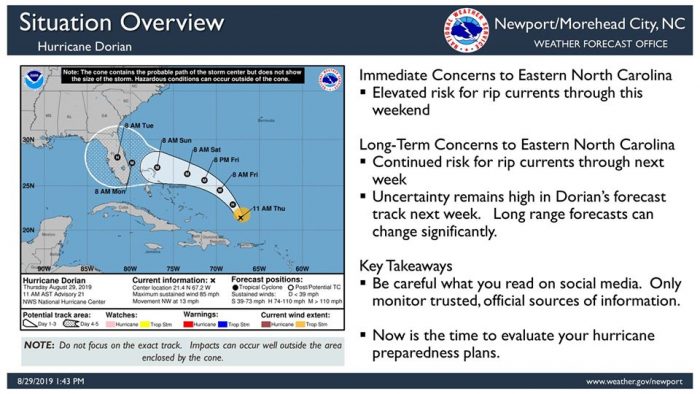 While there are minimal concerns for Eastern North Carolina when it comes to immediate impacts from Hurricane Dorian, residents and visitors along the Outer Banks are advised to watch for rough surf and rip currents this weekend, and to keep an eye on Dorian's track as it approaches the U.S. coastline.
Data from an Air Force Reserve reconnaissance aircraft indicate that Dorian's maximum sustained winds have increased to near 110 mph with higher gusts. Strengthening is forecast during the next few days, and Dorian is expected to become a major hurricane later today.
Dorian is moving toward the northwest near 12 mph, and this motion is expected to continue through Friday.  A slower west-northwestward to westward motion is forecast to begin tonight and will continue through the weekend.  On this track, Dorian should move over the Atlantic well east of the southeastern and central Bahamas today, approach the northwestern Bahamas Saturday, and move near or over portions of the northwestern Bahamas on Sunday.
Dorian is likely to remain an extremely dangerous hurricane while it moves near the northwestern Bahamas and approaches the Florida peninsula through the weekend. Locally, a moderate risk of rip currents and rough surf remains in effect for the Outer Banks, which is expected to last through the holiday weekend as well.
Considerable uncertainty remains in Dorian's forecast track for late this weekend into next week, so all interests in the Carolinas should continue to monitor this storm using trusted, official sources of information. The public can stay updated with the latest information on Dorian and find hurricane preparedness tips at https://www.nhc.noaa.gov/.
For more information on the local forecast, visit www.weather.gov/mhx for weather information, or the National Weather Service office in Newport / Morehead City's Facebook page at https://www.facebook.com/NWSMoreheadCity/.