Hatteras Island Meals announces the winners of its 2023 fundraising raffle
With more than 100 local businesses donating prizes, the 2023 Hatteras Island Meals (HIM) annual fundraising raffle was one of the largest yet, and the winners of the months-long endeavor were announced on Saturday afternoon, October 14, at the Koru Beach Klub in Avon.
The Avon-based venue for Saturday's announcement, (which was held previously at NC 12 Realty in Buxton – another dedicated supporter), made sense for 2023, as owner Joe Thompson was one of the organization's continual partners during the raffle ticket sales season, with HIM volunteers selling "Early Bird" tickets at the event space's regular summer concerts.
2022's fundraiser was a record-breaker, raising roughly $41,000 for the local organization.
And while 2023 fell just short of the $40,000 goal, with an estimated $38,000 in ticket sales, this year's raffle featured some of the most substantial prize contributions yet, with a total of 13 different packages, as compared to last year's seven prize packages.
Hatteras Island Meals (HIM) is a longstanding and all-volunteer organization on Hatteras Island that provides nutritious meals to elderly or homebound island residents. The nonprofit began in 1987 as an informal endeavor, (where local folks prepared meals for their neighbors), and today it has grown to include around 40 volunteers and 50 clients from Rodanthe to Hatteras village – a number that naturally fluctuates year to year.
Like many local nonprofit organizations, HIM relies on big annual fundraising initiatives to keep their day-to-day operations rolling, which entails delivering meals to their clients five days a week.
"Huge thank you to our community, donors, and visitors," stated HIM in a social media post. "Our raffle is our main fundraiser. It's not cheap to purchase approximately 9,000 meals per year, so we thank each and every one of you for all you have done."
The 2023 raffle winners and sponsors are listed below. The live reading of the winners in Avon was hosted by HIM Vice President and emcee extraordinaire Cathy Deimer, and the winners were selected by Steve Bonney of Stu's Food Truck and Ocean Payne of Duck Donuts. The video of the drawing can be viewed online at https://www.facebook.com/HatterasIslandMeals/.
For more information on Hatteras Island Meals, and to make a donation or learn about volunteering opportunities, visit https://hatterasislandmeals.org/.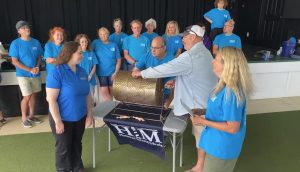 2023 RAFFLE WINNERS
Mardy Tubbs
Elsie Hooper
Shelley Rollinson
Tom Mofffe
Tom Fitz
Debbie Martin
Travis Salyers
Steve Nelson
Michelle Tolson
Stella Casper
Brad Doerr
Cindy Fox
Jen Fargione
2023 SPONSORS