Avon's annual 4th of July fireworks show is in danger of being canceled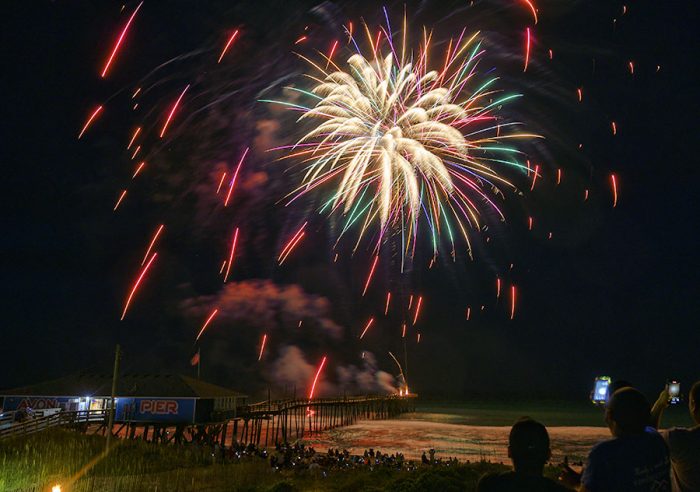 For decades, thousands of Hatteras Island visitors and residents have gathered on the beaches of Avon to catch the annual Independence Day fireworks show launched from the Avon Pier.
Serving as the only 4th of July fireworks display on Hatteras Island, the event has attracted repeat visitors from Rodanthe to Hatteras Village, year after year.
But there's a real chance that there will be no Hatteras Island fireworks show in 2024, (and perhaps 2025 and beyond), due to a combination of increasing costs and dwindling donations – an issue that has grown over the past several years.
"It's very possible that the fireworks show will be canceled next year," said Terry Ponton, President of the Avon Property Owners Association (APOA). "And it's not just going to be disappointing for those of us who live here, but it will be surprising for visitors, and will affect rental homeowners, too."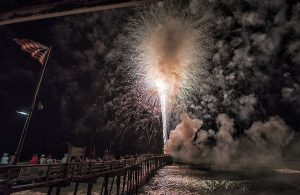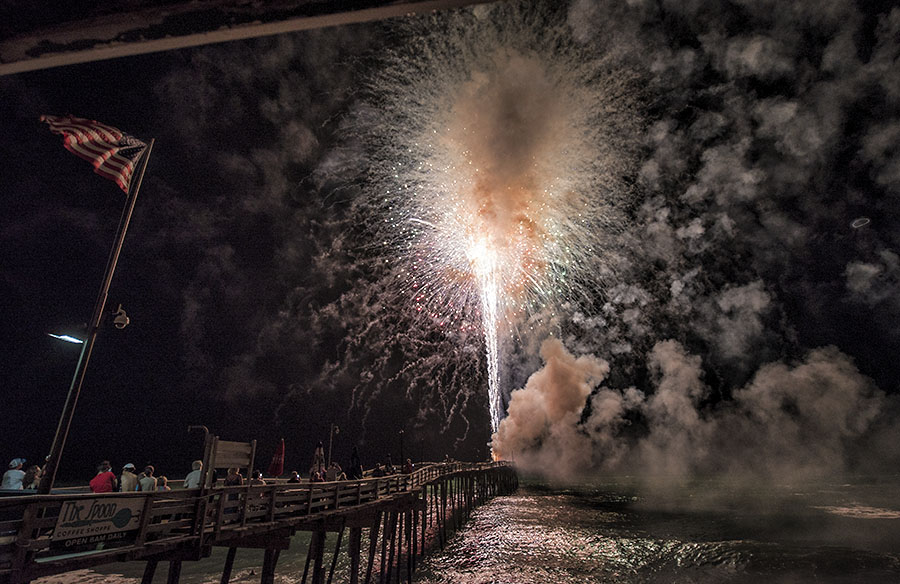 The APOA works as the sponsor or financial agent of the annual show, which is solely funded by donations.
Through the work of a small committee, the APOA solicits these donations, oversees the contract negotiations, secures permitting, and basically does all the behind-the-scenes work required to make the annual fireworks display possible.
The APOA has been spearheading the annual Avon fireworks since 2012. Prior to the APOA's involvement, the Avon fireworks were launched by local volunteers, headed by resident Kenny Brite, but that changed after a horrific 2009 explosion on neighboring Ocracoke Island killed four people while they were setting up the Ocracoke community's annual 4th of July display.
That 2009 incident led to several consecutive years of no fireworks on Hatteras or Ocracoke Islands, and increased regulations for local fireworks displays in the years that followed, which is when APOA stepped in to take the reins of the annual event.
"The fireworks show returned to the Avon Pier in 2012, and over about a 10-year period, the show generated more in donations than it cost," said Rick Anzolut of the APOA. "We had a cash reserve during the first 10 years of operation, but over the last two years, that cash reserve has dropped dramatically."
The estimated cost for the 2024 show is around $40,000, which includes the pyrotechnic contractor, security expenses, permitting costs, and miscellaneous necessities like port-a-potties near the Avon Pier.
"Over the last two years, the cost of the show is about 40% more than it used to be," said Anzolut. "There was a 27% increase from 2021 to 2022, and then a 12% increase from 2022 to 2023, and we expect a 10% increase from 2023 to 2024."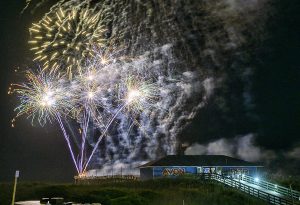 While costs are rising, donations and contributions have dropped, which means that the hefty cash reserve that had funded previous years' fireworks has been whittled down to just $4,000 as of October 2023.
The Outer Banks Visitors Bureau gives $15,000 to the Avon show every year, but even with this reliable contribution, the funds available still fall short of the $40,000 goal line.
"We had a safety net, but we went over the safety net over the last two years," said Anzolut. "Last year, we raised $14,000 from businesses and individuals, and if we raise the same amount this year, we'll still be $7,000 short."
"Essentially, in order to have a fireworks show in 2024, we have to raise 50% more," he added.
While July 2024 seems far away, the timeframe to fill in the $7,000 gap is precariously short.
Basically, the APOA has until the end of the year to secure these funds, in order to enlist a contractor to launch the July 4 event.
"We have to know [whether we have enough money] by February 4, 2024, because that's when the contracts have to be signed, and obviously, the fireworks show itself is the vast majority of the $40,000 budget required," said Anzolut. "We have never had the problem of knowing if we had the money available when the contracts had to be signed, but we have that problem now."
The good news is that the APOA has launched two initiatives to generate new contributors and new donations.
Previously, in order to contribute to the fireworks show, folks had to send in a check to the APOA. As of November 2, the APOA website has launched a new online donation link to make contributing to the show much easier.
In addition, this year, the APOA is accepting advanced pledges for businesses that can be promised now, and paid when the 2024 visitor season starts to heat up.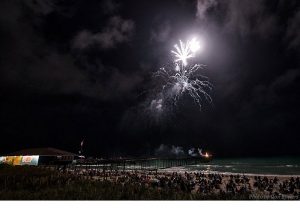 "We believe that the pledge [option] will help the small businesses decide to contribute, but not force them to make a donation now, while their year or season is ending," said Anzolut. "If you are a small or medium-sized business, and would like to make a pledge to be collected next year, you can send an email with your pledge amount to treasurer@avonpoa.org. We'll follow up next year when our small businesses are back up and running for 2024."
The local APOA team hopes that these new avenues for donations will help increase attention and funds, beyond the regular contributors who have helped make the show possible over the past decade.
These routine donors are greatly appreciated, per both Ponton and Anzolut, but it's time to cast a wider and deeper net if the Avon fireworks show is to continue next year, and for years to come.
"We would have never had the show if it wasn't for all the island-based contributors, but if we don't generate new contributors or more money from existing [donors], we're not going to be able to have the show next year," said Anzolut.
"The 4th of July fireworks are going to go away if nobody steps up, and there's no place else on the island that has them," said Ponton. "No one wants to end the fireworks, but we can't keep going unless something changes… We really need the Hatteras Island community to support us."
How you can help:
Individuals and businesses can make online donations now at https://www.avonpoa.org/donations.
Businesses that want to make a pledge, (which won't be due until 2024), can do so by emailing treasurer@avonpoa.org with their pledge amount.
Donations can also be made via checks to the following address: APOA-Fireworks, P.O. Box 9, Avon, NC 27915. Checks can be made out to APOA with "fireworks" in the memo line.