Hazardous marine conditions expected into midweek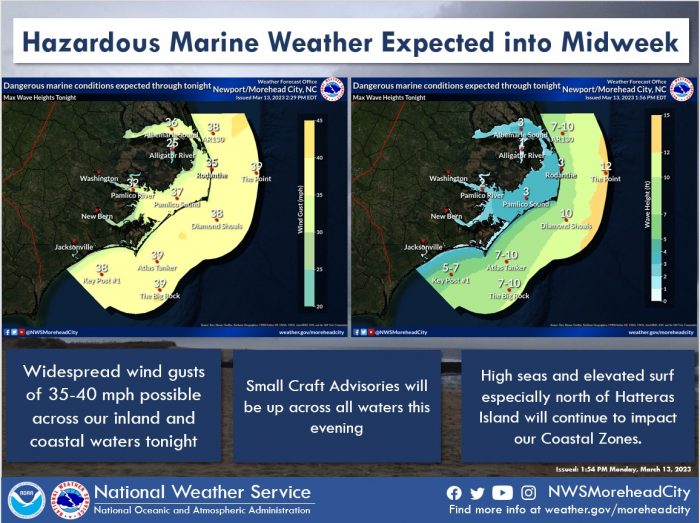 Dangerous marine conditions are expected to continue across the Outer Banks through the middle of the week, per an update from the National Weather Service Newport / Morehead City office.
Widespread wind gusts of 35-40 mph are possible throughout the Eastern N.C. region through Tuesday night, and high seas and elevated surf, (especially north of Cape Hatteras), will continue to impact the coastline, with large breaking waves of 5 to 9 feet in the surf zone.
A Gale Warning, High Surf Advisory, and Small Craft Advisory are all in effect for Hatteras Island. Mariners should alter plans to avoid these hazardous conditions. Remain in port, seek safe harbor, alter course, and/or secure the vessel for severe conditions.
Due to the current adverse wind conditions, the following Hatteras-Ocracoke ferry departures are also canceled:
Hatteras: 1:00 p.m., 4:00 p.m.
Ocracoke/South Dock: 2:30 p.m., 5:30 p.m.
The public can keep track of any additional schedule alterations on the N.C. Hatteras Ferry's Twitter page.
For more information on the local forecast, visit www.weather.gov/mhx for weather information, or the National Weather Service office in Newport / Morehead City's Facebook page at https://www.facebook.com/NWSMoreheadCity/.