Hege challenges Kidwell in Republican primary for NC House District 79 seat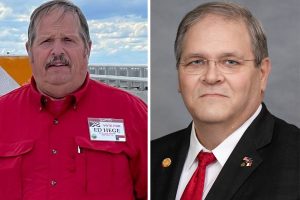 In the Republican primary race for a reconfigured NC House District 79, Edwin Hege is challenging incumbent Keith Kidwell for a seat that now represents the southern part of Dare County, with the dividing line running through Kill Devil Hills.
Kidwell, who resides in Chocowinity, is a businessman and former Beaufort County GOP Chairman and Third Congressional District Treasurer. Elected to his NC House seat in 2018, he has one child and four grandchildren.
Hege, of New Bern, spent 30 years with the City of Lexington (NC) Fire Department before retiring. Married to his current wife since 1997, his family includes four children, seven grandchildren and several great-grandchildren.
In order to help voters better assess their choices, the Voice emailed a set of questions to local candidates that are facing primary contests that will be decided on May 17. The candidates in this race responded and those responses are included below. (Some answers may be edited for length.)
The Voice asked the candidates to identify the issues they think the voters in their district are most concerned about.
Edwin Hege: "The issues most concerning the counties in the district are rapid inflation, specifically fuel, food, fertilizer and seed. Food affects everyone, fuel, fertilizer and seed affect our farmers who make up over one-half of the district's gross income. Then followed by timber being #2 and commercial fishing being #3, each requiring large amounts of fuel.
"Other major issues are the overreaching regulations or outright attempts to eliminate fishing as a commercial enterprise. Another big issue, and one that I feel like will only get worse based on the county commissioner meetings I have attended, are property taxes. With inflation and the required rise in services, most counties will see a rise in taxes or a cut in services. This district already has some of the highest taxes in the state."
Keith Kidwell: "Election integrity and security. Government overreach into their lives and businesses. Crime is out of hand. We need to send more funding, not less, to law enforcement [to] keep criminals off the streets."
The candidates were also asked to discuss the principal differences between themselves and their opponent.
Keith Kidwell: "I'm in Raleigh doing what I was sent to do. My record has been to take on the challenging issues and deliver on getting them done. I have been called 'the conservative conscience of the NC House' by Rep. Dean Arp. Awarded by the American Conservative Union every year I have served. Scored 100% with Civitas all three years, winning the NC Freedom award each year. I am the only member of the General Assembly ever to have three successive 100% scores."
Edwin Hege: "My background is likely the largest difference in myself and my opponent. I have lived my entire life in NC. My career choice began as a life of Public Services with the City of Lexington Fire Department in 1978 and retiring as a Captain in 2008 for 30 years of continuous service. Also during this same time, I was a member/volunteer with North Lexington Triangle Fire Department and served as the Department's elected Chief for 14 years.
"I have always considered myself very close to the working class. Often times, along with my fire service career, I had many other part-time jobs including house painter, mechanic, machinist, heating and air installer, farming, grading contractor and welding fabricator. The life experiences I gained through… interacting when people are having perhaps the most life- altering events (from loss of home, and at times, loss of loved ones) have given me a compassionate sense of understanding their situations.
"In addition, my campaign has been financed mostly by myself and my wife, and a few other small donors. This situation allows me to be a "more for the average people" of the district as I am not beholding to any large donor. I am not 'owned' by anyone."
The candidates were asked if they wanted to list any endorsements they had received during the campaign.
Edwin Hege: "The only endorsements have come from individuals saying, 'I'll vote for you.'  I have been endorsed by Billie Creech, a former state representative, and huge supporter of my campaign. I also have been endorsed by Sam Watford, State House Representative District 80. Grassroots NC gave me a 100% 4-star rating, just like my opponent, but gave him the endorsement because he is the incumbent."
Keith Kidwell: "Endorsed by the NRA and Grass Roots NC."
The candidates were asked to share something about themselves that voters probably don't know, but should know.
Keith Kidwell: "Met the girl who would become my wife when I was four years old. I married the girl next door. We love hiking, camping and fishing. Have traveled across the United States three times. Once in 1976 in a pup tent, then in 1999 with my children, and then in 2018 with my wife, son, daughter-in-law and four grandchildren. All done in a 24-foot travel trailer and an 8-passenger Expedition. What a great adventure."
Edwin Hege: "I became a widower in early 1996, leaving me with two very young children. By the grace of God, help from family, grandparents and friends, both my children and I recovered and did well. I remarried a year later and created a loving blended family. With the help of my beautiful wife, all my children grew up in a Christian home, went on to build successful lives and have given me wonderful grandchildren and great-grandchildren. I have truly been blessed."