HI CERT launches new initiative to keep Hatteras Island connected during communications outages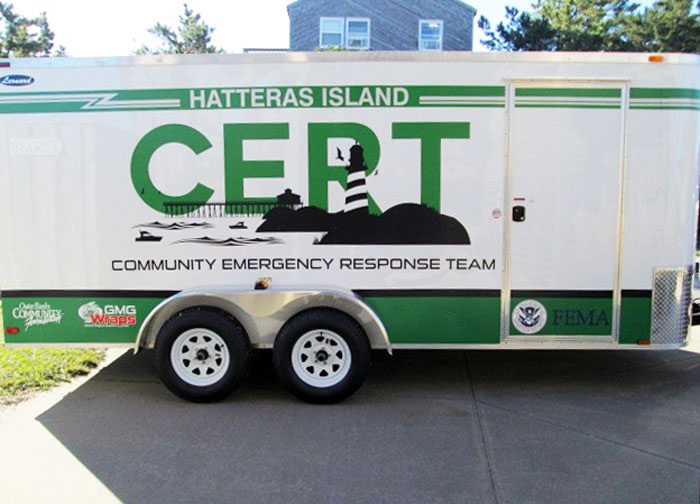 Thanks to a recent grant from the Outer Banks Community Foundation, the Hatteras Island Community Emergency Response Team (HI CERT) is launching a new initiative to keep Hatteras Island connected to the rest of the world when a communications outage occurs.
With the $26,900 grant, HI CERT is taking the first steps to purchase trailers, generators, and communications equipment to operate six satellite internet access points at strategic locales around the island, in order to provide internet and phone service during a fiber cut or natural disaster.
Most communications on Hatteras Island are powered by a single fiber optic cable that runs in a right-of-way along N.C. Highway 12. This cable is responsible for bringing all phone and internet services to Hatteras Island, but it can be easily damaged by storms, flooding, and ongoing construction work to keep the highway open and accessible.
There have been several communication outages so far in 2023 alone, including one in February that lasted for approximately seven hours. When these outages occur, residents and visitors are unable to access internet or cell phone service, which most importantly, can impact the ability to call 911 during an emergency.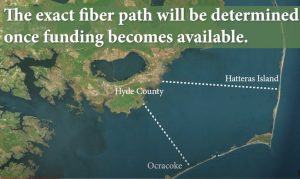 Dare County is pursuing federal grant funding for the installation of a subsea cable that can establish a secondary path that connects Hatteras Island to the mainland, creating a more reliable loop for communications. But while this long-term solution is underway, the new initiative by HI CERT aims to provide immediate relief for all seven villages.
"The county has some long-range plans to help resolve the issue, but that is going to rely on grant applications, grant approvals, and time to get everything done," said Kenny Brite, HI CERT President. "In the meantime, we came up with this solution to try to help solve the problem."
HI CERT is in the process of purchasing the first three of the six trailers, which will be outfitted with three Starlink satellite systems, and three ham radios. Once these trailers have been set up and are operational, they will be stationed at strategic locales along the island when needed. From there, instructions will be posted on how to connect to the Starlink systems, and residents and visitors can effectively drive up to the site, and reach out to the outside world.
"The primary purpose is to be able to call 911 and make emergency calls. For example, if an outage occurs, people can call their relatives and loved ones off the island and let them know they are OK," said Brite. "We'll have posters with instructions on how to set up your phone to connect, as it's not intuitive. And if for some reason we can't get satellite access – like if it's raining really hard, or snowing –we can ham radio to Dare Central Communications in case of an emergency."
The exact locations of the trailers are still being determined, although the Frisco Volunteer Fire Department will likely be one of the locales.
"We're making that decision [of where to place the trailers] with our local fire chiefs," said Brite. "We don't know if there will be 10 cars using it, or 50 cars using it, and we don't want to clog the parking lots of the fire stations, in case there is an emergency."
Brite and the HI CERT team hope to have the first trailers up and running within a matter of weeks. In the meantime, however, there is still a $26,900 gap in funding to purchase and set up the remaining three trailers.
"The Outer Banks Community Foundation made this possible and we couldn't have done it without them," said Brite. "But we're looking at fundraising options to get the rest of what we need [for the project.]"
Upcoming fundraising events are being considered to help complete the six-trailer endeavor. In the meantime, however, islanders can look forward to a new way to stay connected when a communications outage occurs. "Whether it's nine hours, or nine days as was the case after Hurricane Irene, this new system will allow important and sometimes life-saving communications to continue on our island," said Brite.
About HI CERT and how to help:
Founded in 2011 after Hurricane Irene, this non-profit organization currently has about 40 volunteers who jump into action in the immediate aftermath of a hurricane or other emergency situation on Hatteras Island.
Visit their Facebook page at https://www.facebook.com/hicert/ for more information.
Donations can also be mailed to:
HI CERT
PO Box 35
Avon, NC 27915