High surf and dangerous rip currents expected through the weekend; N.C. Highway 12 open with some standing water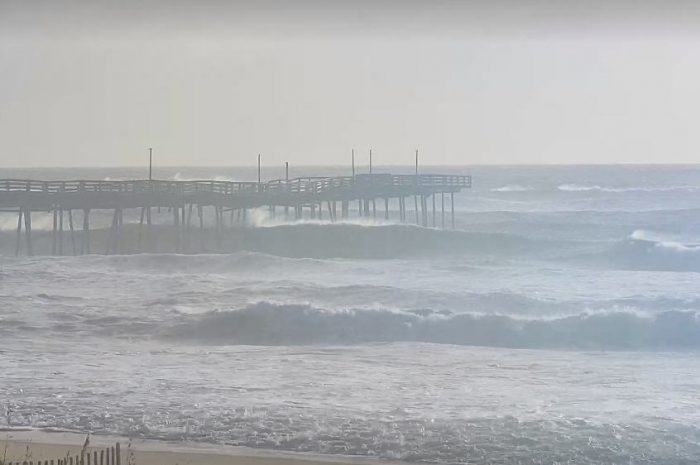 High surf and dangerous rip currents will linger through the weekend after Tropical Storm Idalia impacted the Outer Banks on Thursday, bringing heavy rains, wind, and minor to moderate coastal flooding.
N.C. Highway 12 is open throughout Hatteras Island, however there are still reports of some standing water, per a 7:00 a.m. Friday update from the Dare County Sheriff's Office:
Oregon Inlet: From the Marc Basnight Bridge to the Jug Handle Bridge, there is blowing sand, with a few spots collecting on N.C. 12. There is minimal standing water in normal low spots. All very passable.
Tri Villages: There is approximately 2 inches of standing rainwater in both lanes of N.C. 12 in the Waterfall Park area and 4-6 inches of water in both lanes at Wind Over Waves.
Frisco: There are a few spots of standing rainwater in both lanes of N.C. 12 near Frisco Woods Campground.
Hatteras: There is approximately 6 inches of water in both lanes of N.C. 12 at Sandy Bay and up to 6 inches at Hatteras Village Marina in both lanes.
Areas of Buxton, Frisco, Hatteras, and Ocracoke received approximately 1.5 feet of soundside flooding on Thursday night, but water levels have receded as winds have decreased and shifted to a more northeasterly direction.
On the oceanside, there were no reports of overwash with the Thursday evening high tide, with the exception of the Mirlo Beach area in northern Rodanthe. The next high tide is approximately 9:00 a.m. on Friday.
All Hatteras-Ocracoke ferry operations remain suspended as of 7:00 a.m., and the North Carolina Ferry System and the Coast Guard are conducting channel inspections on Friday morning. Passengers can receive real-time text or email alerts on service status from their preferred routes by signing up for the Ferry Information Notification System (FINS) at www.ncdot.gov/fins. System-wide route status updates will also be posted on the Ferry Division's Twitter and Facebook pages.
The National Park Service is reopening its facilities today, except for the Cape Point and Ocracoke campgrounds due to high water levels.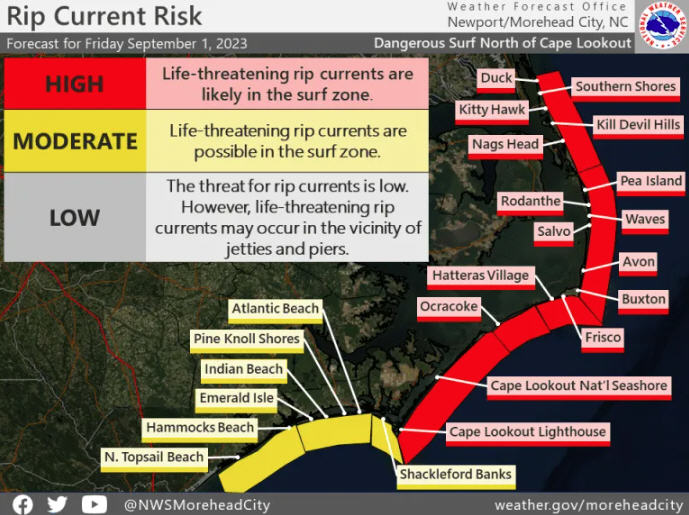 Dangerous surf and a high risk of rip currents remain along all beaches of the Outer Banks, and a high risk of rip currents is expected to continue through the weekend. A high risk of rip currents means that the surf zone is dangerous for all levels of swimmers, and beachgoers should stay out of the water.
The public should check surf and swimming conditions before heading to the beach, and the daily beach forecast at www.weather.gov/beach/mhx includes rip current risk levels, and information about other hazards along the shoreline. Visitors can also sign up for text alerts from Dare County, ocean rescue agencies, and the National Weather Service by texting "OBXBeachConditions" to 77295.