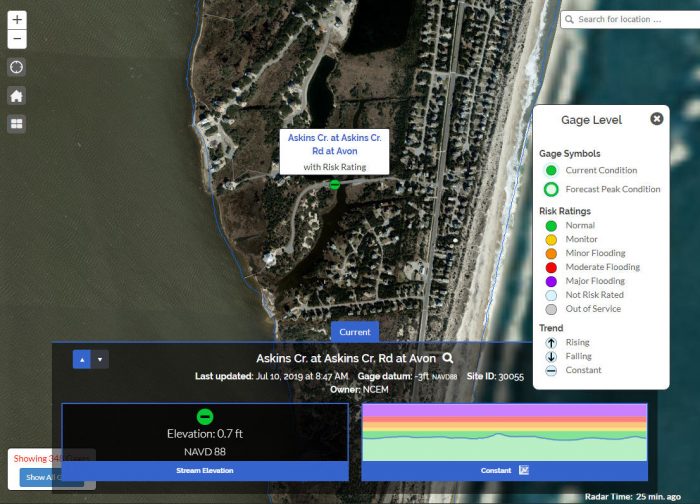 There are a number of routine questions that arise with every weather event where high winds and coastal flooding are an imminent concern – "Do I need to move my car? What about my lawnmower? Do I need to take all my outside stuff indoors?"
Simply put, with every coastal storm, residents want to know one thing: "Is my neighborhood going to be flooded?"
But there's a relatively new online tool to help islanders find immediate answers to this question – the local flood gauges that are installed and monitored by the Flood Inundation Mapping and Alert Network (FIMAN.)
These flood gauges are located at key spots along the island. The first four were installed in 2018 at the Emergency Ferry Dock in Rodanthe, the NCCAT campus in Ocracoke, the U.S. Coast Guard Station in Hatteras, and at the Oregon Inlet Marina. But there have been more added as FIMAN expands their reach to provide a state network that alerts local communities to dangerous flooding conditions.
If you've been out and about in various waterfront corners of the island, you may have come across these unusual looking additions to the local landscape. A new one popped up in the Askins Creek neighborhood of Avon earlier in 2019, and plans are in the works to add another flood gauge at the Fessenden Center in Buxton.
"Hopefully, the one at the Fessenden Center will be installed at the end of July or early August," says Drew Pearson, Emergency Management Director for Dare County. "Having one in every village and every town would be my hope, and we're hoping to continue to beat the drum to get them installed so residents can say 'This one is in my village and my community, so I can look at this gauge for information.'"
The way the flood gauges work is relatively simple. The public can access any of the flood gauges via the online interactive map at https://fiman.nc.gov/, and can garner a wealth of color-coded information to determine the current risk of minor, moderate, or major flooding for their area. Users can even register to receive email or text alerts when flooding reaches dangerous levels, and can also see an overview of what is considered "normal" for a given flood gauge's locale.
The information is constantly being updated with real-time data, so when a storm is on the horizon, islanders can follow water local water levels and proceed accordingly.
"Anyone who wants to know how much water is in the sound at any particular point in time can take a look at the water levels and see how much is there," says Pearson. "When waters are on the rise, anyone can see the sound levels coming up, and the higher it gets, the more likely it is that there will be flooding… And you can see that in real time with the gauges that are being installed."
Granted, many locals rely on plain old experience and common sense to determine the likelihood of a flooding event. After all, if you look to the west during a storm and notice that the sound has all but disappeared, there's a fairly good chance it will be coming back with ferocity in the not-so-distant future.
But the FIMAN flood gauges provide supplemental and more detailed info – without a trip to the water's edge. While the gauges don't forecast what might come next, the real-time ebb and flow of water levels provides an accurate portrait of what's happening, and can help guide any appropriate next steps.
"This will give people the opportunity to be alerted that water levels are changing, and it can help them make decisions when there are warnings in place," says Pearson. "There might be an event where people see the water levels rising, so they know they need to move their car, or clean up their yard."
And as more flood gauges are added to various hot spots on Hatteras and Ocracoke islands in the future, the public's access to this timely information – and ability to make smart flooding decisions – will continue to be on the rise.