Low pressure system will bring heavy rains, rip currents this weekend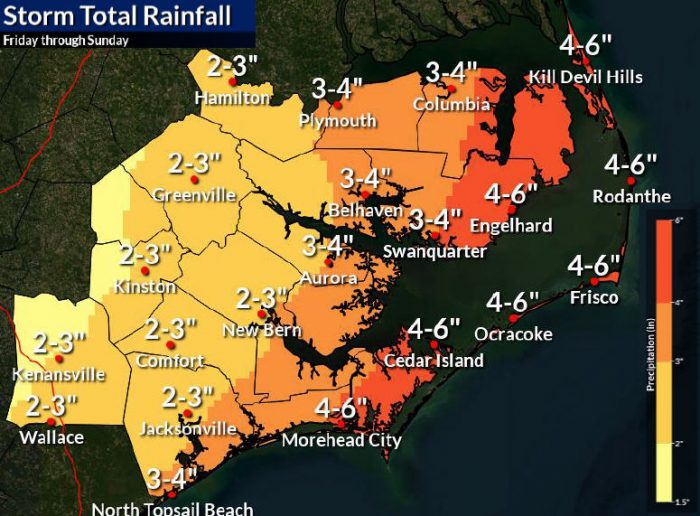 An area of low pressure is forecast to develop off the Southeast coast late this week, which will lift across or just offshore of the Carolinas this weekend, per an update from the National Weather Service (NWS) Newport/Morehead City office.
There is still a lot of uncertainty about the strength and track of the system, as well as the potential impacts, but much of the Outer Banks area will see significant rainfall. 4-6 inches of rain is currently forecast beginning Friday and into Saturday, although rain could be prevalent throughout the weekend.
In addition, long-period swells from Hurricane Nigel in the Central Atlantic will begin to impact the beaches later this week, bringing large surf and an increased rip current threat.
Prolonged strong winds could result in at least minor coastal flooding this weekend, and the low-pressure system could turn into a named tropical or subtropical storm, but the long-term forecast will become clearer towards the end of the week.
The public should check surf and swimming conditions before heading to the beach, and the daily beach forecast at www.weather.gov/beach/mhx includes rip current risk levels, and information about other hazards along the shoreline. In addition, the public can visit Dare County's Love The Beach, Respect The Ocean website for current rip current risks and additional info.
Visitors are also encouraged to sign up for text alerts from Dare County, ocean rescue agencies, and the National Weather Service by texting "OBXBeachConditions" to 77295.
For more information on the local forecast, visit www.weather.gov/mhx for general weather information, or the National Weather Service office in Newport / Morehead City's Facebook page at https://www.facebook.com/NWSMoreheadCity/.