Soundside flooding reported in multiple areas of Hatteras Island on Friday afternoon
Canadian Hole at approximately 1:30 p.m. on Friday afternoon. Video by Mandy Haage Fuller
4:00 p.m. update: Additional soundside flooding has been reported in Buxton, Frisco, and Hatteras village. N.C. Highway 12 in Avon is now flooded throughout the village. Soundside flooding was also reported between Avon and Buxton, as well as between Avon and Salvo.
N.C. Highway 12 remains closed from the Captain Richard Etheridge Bridge on Pea Island to Tarheel Ct. in Salvo. The road is expected to reopen by 10:00 p.m. on Friday, per the NCDOT. Avoid travel unless absolutely necessary.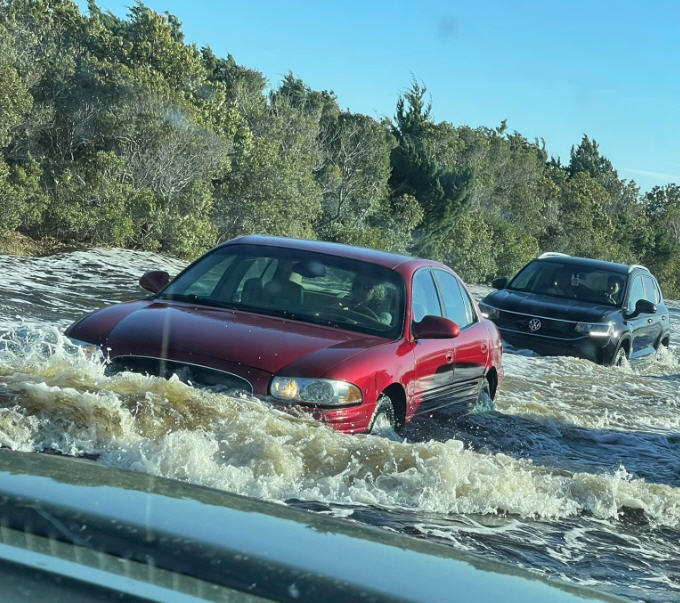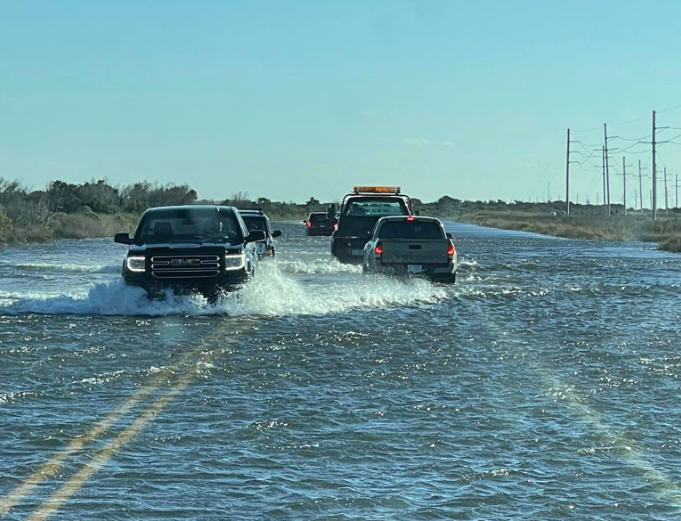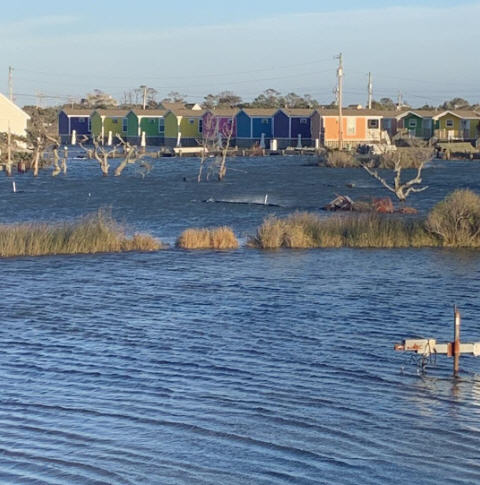 Soundside flooding was reported on multiple portions of N.C. Highway 12 and throughout Hatteras Island, and particularly in Avon, the Tri-villages, and Pea Island.
Per a Dare County Sheriff's Office update, N.C. Highway 12 is currently closed north of Tarheel Court in Salvo due to deep soundside flooding of 12 inches or more.
In Avon, flooding was reported in the Hatteras Colony area, Avon village, northern Avon in the Askins Creek area, and between Avon and Buxton. Travelers should avoid driving if possible, as water is covering portions of N.C. Highway 12 in these areas, and residents along the soundside are advised to move their vehicles to higher ground.
The 1:49 p.m. update from the Dare County Sheriff's Office is as follows:
Hatteras Island:
NC12 is CLOSED from south of Etheridge Bridge to Tarheel Ct. in Salvo.
There are approximately 6 inches of water 100 meters north of the Jug Handle Bridge.
There are approximately 12 inches of water on NC12 in the area of Mac Oca Dr. in Waves.
From North Beachcomber north through Avon has 4-6 inches and rising, but passable at this time.
NC 12 south from ramp 32 has approximately 4 or more inches of water on it.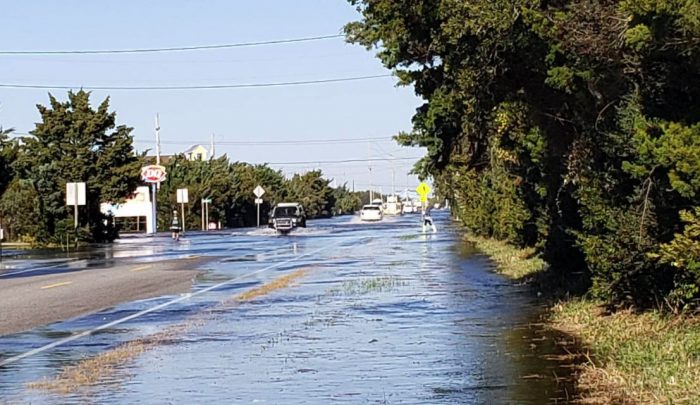 A Coastal Flood Warning remains in effect through 9:00 a.m. on Saturday, December 24.
2-4 feet of above-ground soundside inundation is expected in low-lying areas near shorelines and tidal waterways. Vulnerable oceanfront areas are most at risk and residents and visitors in those areas should be ready to take action to protect property.
Ocean overwash should be expected at vulnerable beachfront properties and roadways around the time of high tide beginning Friday, December 23, and persisting into Saturday, December 24. N.C. Hwy. 12 on Hatteras Island may see ocean overwash that impacts travel. Oceanfront properties on the north end of Rodanthe that have experienced overwash are particularly vulnerable.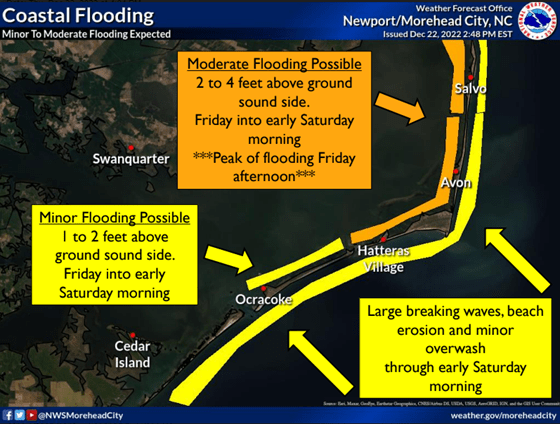 High Wind and High Surf Advisories
High Wind and High Surf Advisories are also in effect. West winds at 25-35 mph with gusts of 50 mph or more are expected tomorrow, December 23, from 7:00 a.m. to 6:00 p.m.
The west winds will continue into the weekend, making soundside flooding a threat from Kitty Hawk to Hatteras Island well into late Saturday. Flood waters may impact travel on roads that flood with persistent westerly winds. Travel through flooded roads should be avoided.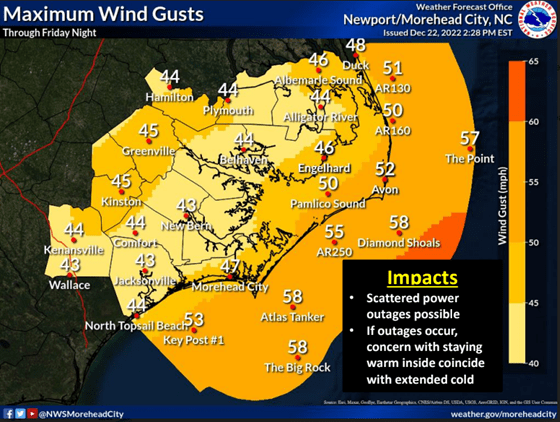 Wind Chill Advisory
The National Weather Service has also issued a Wind Chill Advisory for Hatteras Island and Dare County, effective from 7:00 a.m. on Friday, December 23, to 9:00 a.m. on Saturday, December 24. Arctic air will push into the region, reducing temperatures to possible record lows. These temperatures coupled with high winds could lower the wind chill to as low as zero degrees.
With power outages a possibility, everyone should prepare winter clothes and warm blankets. Check heating systems and pipes for insulation now to help avoid impacts as temperatures drop. As temperatures drop, keeping a slow flow of water in faucets may help keep uninsulated pipes from freezing. Please use caution when traveling outside during this time.
Click here to view winter fire safety tips, shared by the National Fire Protection Association.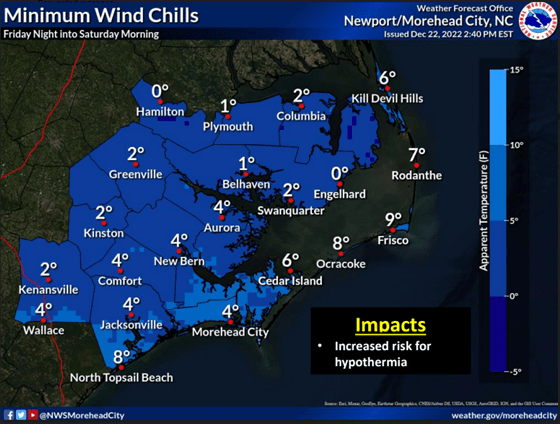 For updated information regarding road conditions on N.C. Highway 12, follow the North Carolina Department of Transportation on Facebook at www.facebook/ncdotnc12, on Twitter @NCDOTNC12 or visit drivenc.gov.
To sign up to receive the latest emergency alerts issued by Dare County – including severe weather watches and warnings – visit www.OBXAlerts.com, or text DareEmergencyAlerts to 77295