N.C. Highway 12 may be closed until Tuesday, per update from NCDOT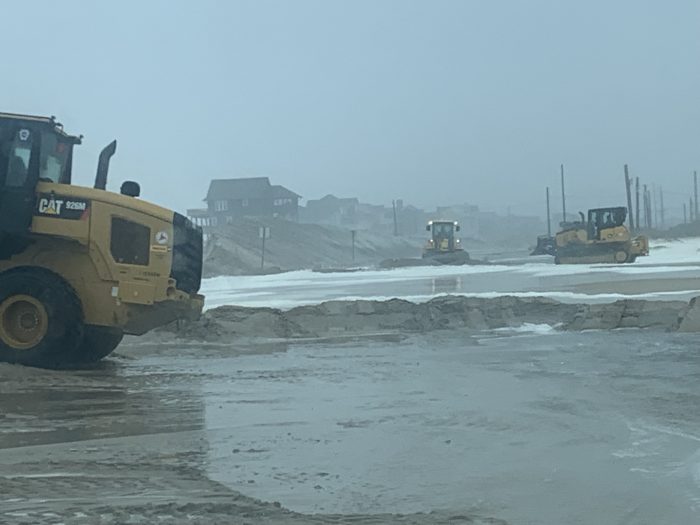 N.C. Highway 12 will be closed from Rodanthe to Oregon Inlet for the rest of the day on Sunday, November 7, and may remain closed until Tuesday, per a 3:00 p.m. update from the North Carolina Department of Transportation (NCDOT).
"N.C. Department of Transportation crews will continue their efforts to clear N.C. 12 of sand, when conditions allow," stated the NCDOT in a Sunday afternoon update. "N.C. 12 could remain closed through Tuesday as crews must clear the highway and rebuild the washed-out dunes that protect it."
"People should avoid travel on N.C. 12, as it is extremely dangerous to travel through flooded roads. Also, never try to go around or remove barricades. Removing barricades is against the law and they are there to protect you."
The highway closed north of Rodanthe during Sunday morning's 9:00 a.m. high tide due to ocean overwash, and at least one dune breach has occurred on Pea Island, leading to exacerbated flooding. NCDOT crews continue to work to clear the roadway of sand and saltwater, and the Island Free Press will post updates on the highway as soon as they become available.
As of midday on Sunday, ocean overwash was reported in northern Buxton, northern Hatteras village, Pea Island, northern Rodanthe, and in Avon along Ocean View Drive, (although there was no flooding on N.C. Highway 12 in Avon as of 1:30 p.m. on Sunday.)
While oceanside flooding was receding on Sunday afternoon, moderate to major ocean overwash is expected to continue until Monday at the earliest, and ongoing impacts to N.C. Highway 12 are probable. Ocean overwash is most likely around high tide, and the next high tide for Hatteras and Ocracoke Islands is approximately 9:30 p.m.
Soundside flooding was reported in Hatteras village, Frisco, and Ocracoke village as of 3:00 p.m. on Sunday. Continued soundside flooding with water levels 2-4 feet above ground level is possible through Monday, and especially for southern Hatteras Island and Ocracoke Island.
Peak wind gusts of 45-60 mph are forecast on Sunday through Sunday night, and 15 to 20 ft. waves in the surf zone will lead to dangerous beach conditions and erosion. A total of 2-4" inches of rainfall is also expected with the storm.
All ferry operations to and from Ocracoke Island have been suspended due to the inclement weather.
For more information on the local forecast, visit www.weather.gov/mhx for general weather information, or the National Weather Service office in Newport / Morehead City's Facebook page at https://www.facebook.com/NWSMoreheadCity/.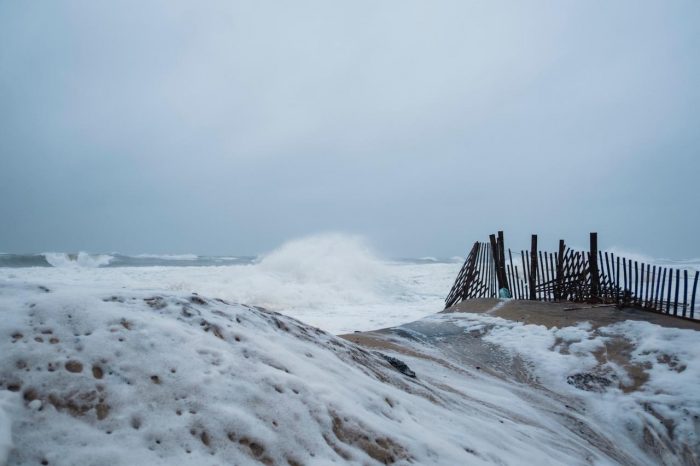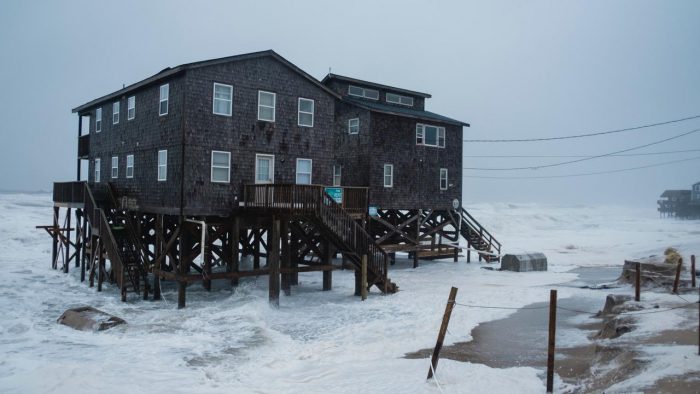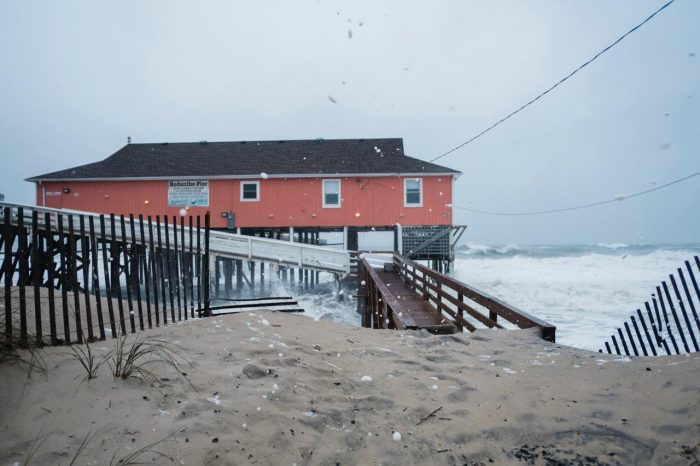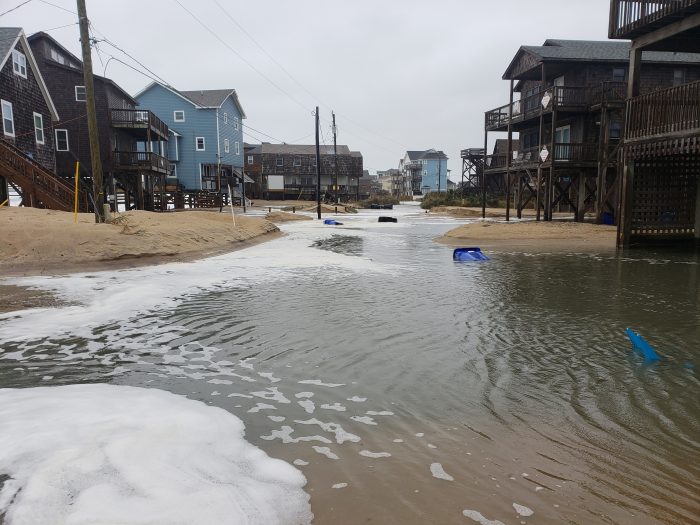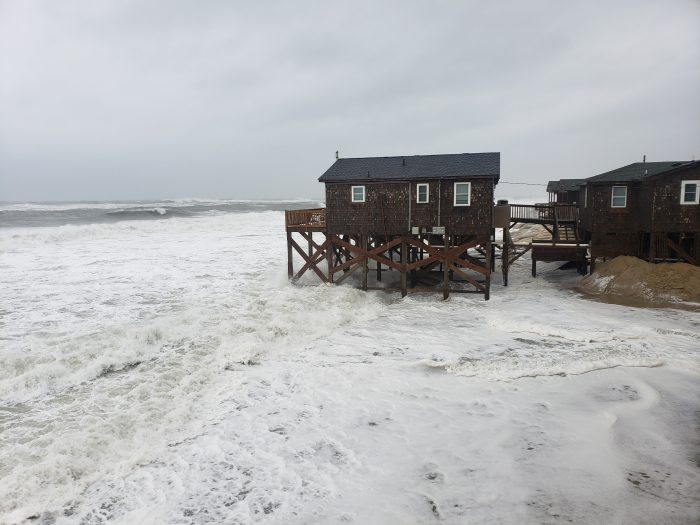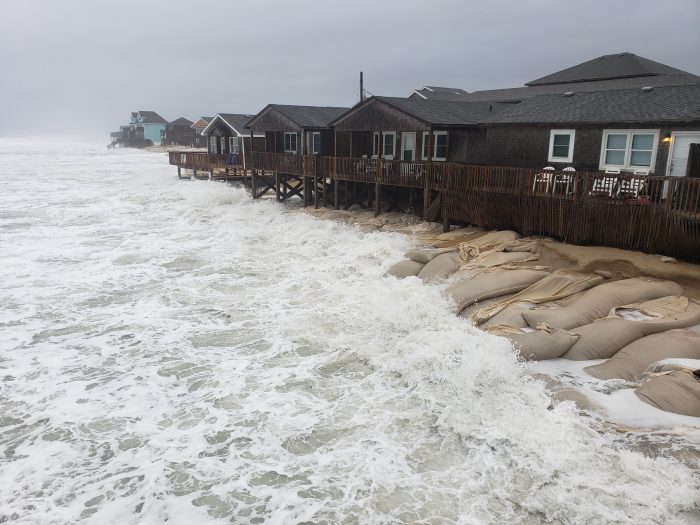 Eagle Pass Road in Hatteras Village, midday on Sunday.